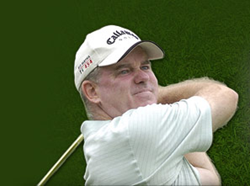 The PGA no longer recognizes his pre-injury wins which makes this a fantastic time for Ken's fans to show their support.
(PRWEB) April 19, 2014
After proving himself in the Montreal Championship last October, Ken Green is back and better than ever. Ken finished the first round in 4th place amid an overwhelming show of "one green sock" support from his fans. He now moves on to the Senior PGA Championship being held in Benton Harbor Michigan later this month. Ken is fully prepared and more determined than ever. Numerous fans across the country, along with the Avantcare Foundation, are showing their support and love for this golfing legend.
Enduring life's most tragic losses five years ago, Ken has had to pick up the pieces and push through despair to make this courageous comeback. Ken lost his wife, brother, and beloved dog in a horrific motor coach accident driving home from a tournament in Texas. Ken sustained severe head trauma and leg injuries. After being told he may never play golf again; he elected for doctors to amputate his leg to have a chance at continuing his golf career. Six months later while recovering, Ken lost his son to a drug overdose.
Instead of succumbing to heartbreak and injury, Ken was led down a path of dedication and perseverance. After years of physical therapy, Ken returned to the golf course with a prosthetic leg to reclaim his place on the tournament circuit. "It isn't easy fighting through pain in the middle of tournament play, but," as Ken stated, "God has thrown some big asteroids at me and basically you have two choices: you get squished or you take them on."
After the Senior PGA Championship, Ken hopes to participate in the Principal Charity Classic in Des Moines, Iowa. This three-day tournament runs from May 30th to June 1st and its proceeds will be donated to local charities such as Blank Children's Hospital and the United Way of Central Iowa. Last year, the Principal Charity Classic raised over $1,000,000 in funds, adding to the $5,000,000 contributed to charity donations over the past seven years.
As a consequence of being away from the game for four and a half years because of his injuries, Ken needs a little help to participate in this charity event. The PGA no longer recognizes his pre-injury wins which makes this a fantastic time for Ken's fans to show their support.
The tournament is sponsored by The Principal Financial Group which gives them the ability to decide some of the event's participants. Ken's fans have taken it upon themselves to contact The Principal Financial Group and and push for Ken's admittance - so if you're a fan feel free to join in, show your support, and let them know that you'd like to seen Ken out on the green.