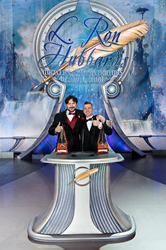 The Writers of the Future writing contest was initiated by L. Ron Hubbard in 1983 to provide a means for aspiring writers to get that much-needed break. Due to the success of the Writing Contest, the companion Illustrators Contest was created
Hollywood, CA (PRWEB) April 17, 2014
The annual event celebrated the winners in the L. Ron Hubbard Writers and Illustrators of the Future Contests (http://www.writersofthefuture.com) before a packed hall of nearly 1,200 guests and hundreds more from around the world who were logged on to watch the event as it streamed live. The night's keynote speaker was Mr. Leland D. Melvin, who started out as a professional football player for the Detroit Lions and later became a NASA Astronaut, flying two Space Shuttle missions to help build the International Space Station. He then served as Associate Administrator for Education at NASA headquarters. Mr. Melvin spoke about the importance of keeping one's dreams and not giving up and how science fiction indeed was the inspiration to so much of what we find now in space exploration.
Mr. Mark Lefebvre, Director for Kobo Books spoke about the future of publishing as it has gone digital and pointed out that this too, was first conceived as science fiction but is now science fact.
The event celebrated the annual winners in the L. Ron Hubbard Writers and Illustrators of the Future Contests, where Randy and Trevor were chosen as the grand prize winners in the international contests. Randy's story "Memories Bleed Beneath the Mask" and Trevor's winning art for "Giants at the End of the World" are published in the bestselling Science Fiction anthology series, L. Ron Hubbard Presents Writers of the Future Volume 30, now available online at Amazon.com, Kobo.com and BN.com and soon to be available in print wherever books are sold.
RANDY HENDERSON
Randy Henderson was born in the States of wonder, awe, and Washington. He quickly learned the joy of escaping to fantasy worlds, from Middle Earth to Earth Sea, from Amber to Pern, from Valdemar to Midkemia. He took some amazing vacation photos of these places (in his head), that he shares with all the friends he made (also in his head). His head has become rather cluttered.
After toying with such impressive creative pursuits as Latch Hook and recording really clever answering machine messages, Randy realized that what he wanted most was to write that which had brought him much joy. It was not as easy as it looked.
Many years of dabbling followed, during which Randy studied social sciences and worked a variety of jobs such as weight loss counselor, Alaska factory-boat worker, and writing tax sob stories for CPA clients (his first paid fiction), before finally settling in IT. Randy decided to get serious about his writing, and attended the Clarion West writing workshop where he learned things, dark, mystical things about the art of writing, things best left unspoken. Ask him, and he'll gladly speak of them.
Randy then wrote new stories, faster stories, stronger stories, and was published in wondrous places like Realms of Fantasy and Escape Pod before winning Writers of the Future. He has since sold additional stories to editors with excellent taste in fiction, as well as a humorous urban fantasy series to Tor. The first novel in the series, Finn Fancy Necromancy, is forthcoming in 2015. His website is http://www.randy-henderson.com.
TREVOR SMITH
Trevor Smith has happily lived in the desert of Tucson, Arizona most of his life but for five years living in San Francisco while attending art school. Loving art school, but not the city he was in, he came back to Tucson with all of the skills he needed to begin a freelance career in illustration and fine art oil painting. His illustration degree focuses on digital painting which he uses to bring fantasy and sci-fi stories to life. Simultaneously, Trevor is oil painting, but entirely different subject matter. Instead of painting otherworldly subjects, he is inspired by painting the beauty that he sees around him. This can vary from grungy cityscapes to the pastel colors in the clouds above a landscape. And recently, even graphic cubism has ignited new inspiration. With such a zeal for learning and sharing his creativity, Trevor revels in the fact that he will never run out of inspiration or ways to expand his art spirit. Perhaps 2014 will be the year for him to make his mark on you—whether through a peculiar cubist piece, or an evocative scene of an alien planet. You can see everything Trevor is up to on his blog: TrevorSmithArt.blogspot.com.
The video of the nearly 3-hour awards event with guest speakers, musical and theatrical presentations can be viewed at http://www.WritersOfTheFuture.com. Randy's acceptance speech as a quarterly winner can be found at 2:07:00 and his acceptance speech for the Grand Prize is at 2:45:20.
With writers and illustrators coming from all walks of life, the winners attended a week long workshop taught by contest judges —including New York Times bestselling authors Dave Wolverton (Runelord series) and Kevin J. Anderson (Dune series), World Fantasy Award winner Tim Powers (On Stranger Tides, adapted as the 4th Pirates of the Caribbean film), multiple Hugo and Nebula award winner Orson Scott Card (Enders Game), multiple Hugo and Nebula award winner Robert J. Sawyer (Flash Forward and The WWW Trilogy), Hugo and Nebula award winning author Larry Niven (the Ringworld series), and internationally acclaimed artists, Stephen Hickman (over 350 book and magazine covers), and Cliff Nielsen (cover artist for Chronicles of Narnia)—each one an experienced professional in the field providing sound advice based on hard-won experience.
Each writing and illustrating contest winner was presented their trophy by contest judges at the ceremony and combined cash prizes and royalties of over $30,000, and their story with artwork published in the L. Ron Hubbard Writers of the Future Volume 30.
The Writers of the Future writing contest (http://www.writersofthefuture.com) was initiated by L. Ron Hubbard in 1983 to provide a means for aspiring writers to get that much-needed break. Due to the success of the Writing Contest, the companion Illustrators of the Future Contest was created in 1988.
The intensive mentoring process has proven very successful. The 348 past winners of the Writing Contest have published 838 novels and nearly 4,000 short stories. They have produced 27 New York Times bestsellers and their works have sold over 50 million copies.
The 276 past winners of the Illustrating Contest have produced over 4,500 illustrations, 356 comic books, graced 594 books and albums with their art and visually contributed to 36 TV shows and 46 major movies.
For more information and to see the awards ceremony online, go to http://www.writersofthefuture.com