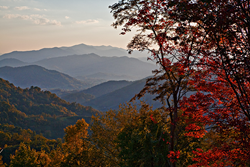 Best Mountain Towns in Western North Carolina
Asheville, North Carolina (PRWEB) April 18, 2014
Happiness is blooming in every corner of the best mountain towns in Western North Carolina affirms Real Estate Scorecard, an online review website which keeps a measure on property owner satisfaction at master planned communities in the Southeast.
Waynesville, North Carolina is bubbling with excitement as the mountainsides and Western North Carolina gated communities become more colorful each spring day. Here's the summer line up of mountain festivals in Waynesville:
From now until July, residents living in Waynesville can scoot to Main Street every first Friday of the month to enjoy the sounds and sights of spring. Music, artist receptions, and live demonstrations are performed to paint smiles on everyone's faces and educate the masses. "ART after DARK" is old-fashioned fun for locals or folks exploring Waynesville, NC's real estate or for anyone aching for an impromptu evening stroll near the Blue Ridge Parkway.
Waynesville NC 2014 Summer Festivals:
April - July 2014 - ART after DARK in downtown Waynesville
June 14, 2014 - Appalachian Lifestyle Celebration on Main Street
June 27, 2014 - Mountain Street Dance on Main Street
July 4, 2014 - Stars & Stripes Celebration at 2 p.m. Let spirits and flags fly on the downtown courthouse lawn.
July 26, 2014 - Folkmoot USA Parade of Nations on Main St. and near the downtown courthouse
August 29 - 30, 2014 - 43rd Annual Smoky Mountain Folk Festival at the Stuart Auditorium and the tent opens at 5:00 both nights
For Baby Boomers who are interested in Haywood County land for sale, there are intriguing events that lead up to the dog days of summer. On June 14, 2014, the Appalachian Lifestyle Celebration will take place on Main St. from 10 a.m. – 5 p.m. This heritage themed event will please crowds with its abundance of information and entertainment about preserving the history and nature of the best mountain town in North Carolina.
On June 27, 2014, owners of Waynesville, NC real estate can kick up their heels, because the Mountain Street Dance is inviting all cloggers and square dancers to the party. This is not the only time to celebrate and dance. The Stars & Stripes Celebration, Folkmoot USA, and Smoky Mountain Folk Festival are next in line. Truly, it is a grand party all the time in the downtown area of Waynesville. However, the comfortable side of the mountain is found in the gated community of Sunset Falls at Bald Creek. Real estate developer, Michael Posey, dedicated his time and effort into creating an intimate community in the Smoky Mountain, and Real Estate Scorecard states he did a spectacular job.
Sunset Falls at Bald Creek is located 30 minutes from Asheville, North Carolina and close to the heart of the best mountain town in North Carolina. Retirees looking at Haywood County land for sale can find everything they are look for in this 300-acre community. Complete with miles of scenic walking trails, cascading waterfalls, and long range layered mountain views and quick accessibility to downtown, buyers interested in Waynesville, NC real estate will love these features of this gated mountain community.
Baby Boomers get options at Sunset Falls at Bald Creek. Homesites can be combined to double or even triple the size of a plot of land that was in the original community design by Michael Posey. Buyers who decide to expand the size of a lot can actually get up to a 75% discount. Sunset Falls at Bald Creek has options to increase the size of the original lot by 20-25% and it is leaving more money in the buyers' pocket this year. On top of this appealing discount, folks interested in relocating to this gated mountain community can receive reduced taxes.
Take a peek at Sunset Falls at Bald Creek homes.
These lot designs allow retirees to invite their families to visit. The larger land sizes are big enough to build homes and/or mother in law cottages to accommodate all of their guests. Sunset Falls at Bald Creek addressed these requests from current residents and folks interested in becoming members of the community. The community united for a common cause and welcomes new property owners.
Happiness thrives on this side of the mountain. From the festive celebrations to the friendliness of the neighbors at Sunset Falls at Bald Creek, more and more retirees are finding out why Waynesville is the place to settle down.
To schedule a tour of Sunset Falls at Bald Creek and meet Michael Posey, call him direct at 828.545.8200.
About Real Estate Scorecard:
Real Estate Scorecard writes unbiased real estate reviews providing in-depth information about popular gated communities in Florida, Georgia, North Carolina, South Carolina and Tennessee, all in an effort to help people discover where to retire in the Southeast.
Website: http://realestatescorecard.com