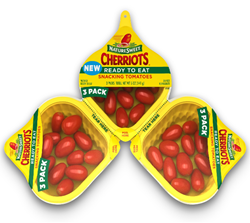 These flavor packed, bite-sized tomatoes come in a convenient pull-apart three-pack making them the perfect on-the-go snack for your healthy lifestyle!
San Antonio, TX (PRWEB) April 18, 2014
NatureSweet®, the leading grower of premium, branded fresh tomatoes with unrivaled taste, has introduced a new line of specially grown microproduce: NatureSweet Cherriots™ Tomatoes. These cleverly packaged, bite-sized tomatoes filled with flavor, meet the growing demand for snacks that support a healthy lifestyle. Cherriots will be sold in a convenient pull-apart three-pack so they can conveniently leave the kitchen along with the active snacker, one pack at a time.
"Studies show that adults eat almost half of their food between meals," said Michael Joergensen, marketing director of NatureSweet. "At the same time, consumers are demanding healthier options to take with them to the office, school, or wherever they go. Cherriots are perfect for those who want to maintain a healthy diet when they're away from home."
Nine out of 10 consumers who bought Cherriots said they would keep buying them, according to a survey taken soon after the snacking tomatoes hit the market. Consumers hailed Cherriots as being a unique offering for produce snacks.
NatureSweet upholds the promise of vine-ripened and hand-picked freshness with bold, innovative packaging. Sold in three-packs with about a dozen red tomatoes per pack, Cherriots can easily be broken into individual units for ease of carrying in a lunchbox, purse or gym bag.
As with every NatureSweet tomato, Cherriots are grown in the controlled environment of a greenhouse from seeds. Cherriots are allowed to fully ripen on the vine, which produces exceptional flavor and consistent quality year-round.
To find out more about Cherriots and NatureSweet, please visit NatureSweet.com.
About NatureSweet®
NatureSweet Ltd. is the leading grower of premium, branded, best-tasting fresh tomatoes in North America. Always vine-ripened and hand-picked at the peak of freshness, only NatureSweet® tomatoes guarantee great taste all year round. NatureSweet tomatoes are carefully grown, harvested and packaged by more than 6,000 full-time associates, and are sold at major grocers, mass retailers, club stores and food service operators in the United States, Canada and Mexico. Known for award-winning quality and innovative packaging, NatureSweet is also committed to having a positive social, environmental and economic impact on the communities in which they operate. NatureSweet Cherubs®, SunBursts®, Glorys™, Cherriots™ and Jubilees® are trademarks of NatureSweet Ltd. For more information about NatureSweet tomatoes, visit http://www.naturesweet.com.