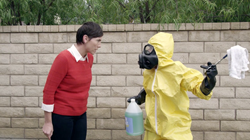 San Francisco, CA (PRWEB) April 22, 2014
There are more than 250,000 reported cases of children being poisoned by cleaning products in the US each year*, the majority of these cases being in the home. Yet many consumers load their kitchen and bathroom cabinets with bleach, ammonia and other toxic cleaning products out of habit.
This Earth Day (April 22), consumers can resolve to be more eco-friendly with new products for the home from chemical-free cleaning company Zabada. Zabada cleans faster, healthier and more hygienically than most products on the market – using just water and a unique combination of fiber and ultra-thin microfiber cloths. "The proof of the Zabada system comes in the form of bacteria swab tests*, where Zabada gloves and cloths consistently return lower surface bacteria readings than the major store brought chemical and green cleaning products," says a company spokesperson. While the water loosens the dirt, the fibers trap grease, grime and bacteria to achieve unbeatable results – removing up to 99% of bacteria from any surface.
Zabada Clean has just launched an innovative range of cleaning products, and its owners, who have 20 years of experience in Europe and Australia, make a strong case for change. "For anyone interested in a cleaner, healthier, safer home we have the answer," a Zabada spokesperson says. In addition to Zabada's promise for a superior clean, the company also guarantees to eliminate hazardous chemicals that are dangerous for humans to be in contact with. The company's dedication to re-usability (the products are proven to last up to three years), zero waste and lower water usage make Zabada a game-changer in the household cleaning industry.
Zabada has focused its launch efforts in the San Francisco Bay Area, due to the prevalence of Bay Area consumers consciously looking for innovative 21st century health and environmental solutions. The company has currently launched online, which it says enables consumers to "discover" the brand, whilst also providing education around its products. "We chose online over traditional retail because it fits who we are as a brand. Our experiences in Europe and Australia have proven the power of consumer advocacy. People who get our product and make the change drive our brand," says Damian Pike, President and Founder of Zabada.
For more information on the products and their capabilities, visit the Zabada website.
About Zabada
Happy to yodel against yuck at every opportunity, Zabada is pioneering chemical-free cleaning products for the home, online retailing its own line of gloves, cloths and hardware that clean simply with water. With a lab coat never far away, Zabada is scientifically proven to provide a superior clean to traditional household chemical and green cleaners. Over its three-year product lifespan, Zabada also delivers unrivalled health, environmental and savings wins, making it the go to choice for all of us living conscientiously in the 21st century.
Manufactured exclusively in Austria from the highest quality raw materials, to exacting ISO** standards, Zabada's unique combinations, cuts and weaves of different fibers & microfibers offer cleaning solutions for every area of the home and has customers yodeling against yuck right along with us.
*The University of Western Australia - Literature based research investigation of household cleaning: comparisons between the use of conventional domestic chemical cleaning agents and fiber/microfiber-based cleaning methods.
Atmospheric and Environmental Chemistry Research Group School of Chemistry and Biochemistry, May 2013
**ISO (International Organization for Standardization) is the world's largest developer of voluntary International Standards. International Standards give state of the art specifications for products, services and good practice, helping to make industry more efficient and effective. Developed through global consensus, they help to break down barriers to international trade.