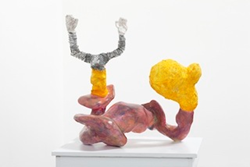 Los Angeles, CA (PRWEB) April 22, 2014
Highly regarded sculptor and Woodbury University Associate Professor Patrick Nickell is among 178 American and Canadian scholars, artists and scientists named John Simon Guggenheim Memorial Foundation fellows for 2014.
Nickell is believed to be the first Woodbury recipient of a Guggenheim fellowship and was selected from among nearly 3,000 applicants. Since its establishment in 1925, the Foundation has granted more than $315 million in fellowships to almost 17,700 individuals – including scores of Nobel and poets laureate, Pulitzer Prize winners and Fields Medal recipients.
"To say we are proud and honored to have an artist and educator of Patrick Nickell's stature here at Woodbury would be an understatement," said Luis Ma. R. Calingo, Ph.D., president of Woodbury University. "Patrick's entire approach to art education is about encouraging students to imagine new ideas and harness the creative power and potential of multiple disciplines to achieve success."
"Patrick is passionate in his belief that a foundation in the arts provides a platform on which Woodbury students can achieve lifelong success, no matter which direction their career may take them," added Edward Clift, Ph.D., dean of Woodbury's School of Media, Culture and Design (MCD). "We look forward to his continued contributions as an artist and a member of our faculty."
"The fellowship is wonderful recognition from an amazingly generous foundation," said Nickell. "The resources provided by the Guggenheim Foundation will enable me to explore new directions as a sculptor. The transdisciplinary nature of the Guggenheim award fits perfectly with Woodbury's approach to education. I look forward to bringing the benefits of this fellowship directly to the amazing MCD foundation students I will encounter in the classroom."
A native of Van Nuys and resident of Los Angeles, Nickell received a bachelor's degree in art from Linfield College in 1983 and earned a master's in fine arts in sculpture from the Claremont Graduate University in 1985.
His professional career began with solo exhibitions at the Los Angeles Contemporary Exhibitions in 1988 and Sue Spaid Fine Art in 1991. Throughout the 1990s, his work was exhibited at the Michael Kohn and Kohn/Turner galleries in Los Angeles, and with national and international group exhibitions at The Krannert Art Museum (University of Illinois, Urbana-Champaign), Curt Marcus Gallery (New York), Galerie Markant (The Netherlands), Galleri Tommy Lund (Odense, Denmark) and the Seattle Center on Contemporary Art. In the late 1990s, Nickell curated two group exhibitions – "Hooked on a Feeling" for the Kohn/Turner Gallery and "Blast Off" for Fred Hoffman Fine Art in Santa Monica.
Following a 2002 solo exhibition at Solway Jones Gallery in Los Angeles, Nickell's work was featured in "Patrick Nickell: Built for Speed, A Sculpture Survey," a traveling exhibition that chronicled his early work as a sculptor and traced its development and distinctiveness within a broader cultural context of national and international contemporary art making of that time period. Initially exhibited in 2003 at the Luckman Gallery at California State University, Los Angeles, the exhibition traveled to the Nora Eccles Harrison Museum of Art at Utah State University and The University of Texas at San Antonio. The exhibition was broadly reviewed and was nominated by The International Association of Art Critics (AICA) USA Division in the category of "Best University Gallery Exhibition." In 2004, Nickell was awarded an Artist Resource Completion Grant from the Durfee Foundation.
More recently, his work has been featured at Acme, Los Angeles; the Hales Gallery in London; the University of California at Santa Barbara; the Dust Gallery in Las Vegas, and the Rosamund Felsen Gallery in Santa Monica, which currently represents him. His artwork is in the permanent collections of the Museum of Contemporary Art (MOCA) in Los Angeles; the Luckman Fine Arts Gallery, the Laguna Beach Museum of Art; the Nora Eccles Harrison Museum of Art; the Santa Barbara Museum of Art; the Los Angeles County Museum of Art (LACMA); and the Berkeley Art Museum at the University of California at Berkeley.
Nickell was appointed Associate Professor, Design Foundation, in the School of Media Culture and Design at Woodbury University in 2012. Prior to that, he was an adjunct professor at both Woodbury and the Otis College of Art and Design and studied at the Rodin Museum in Paris and Meudon, France.
About Woodbury University
Founded in 1884, Woodbury University is one of the oldest institutions of higher education in Southern California. Woodbury offers bachelor's degrees from the School of Architecture, School of Business, School of Media, Culture & Design, and Institute of Transdisciplinary Studies, along with an MBA program, Master of Architecture (MArch), Master of Science in Architecture (MSArch), and Master of Organizational Leadership. A San Diego campus offers Bachelor of Architecture, Master of Real Estate Development for Architects (MRED), and Master of Science in Architecture, Landscape, and Urbanism degrees. Visit http://www.woodbury.edu for more information, and Reflections on Excellence, the twice-monthly blog written by Woodbury University President Luis Maria R. Calingo, Ph.D.