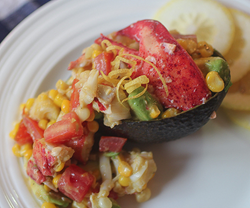 (PRWEB) April 18, 2014
As spring begins to settle in, it is time to get fired up in anticipation of all the warmth and sunshine the season can muster – so let's add a little flare to celebrations, beginning with Cinco de Mayo!
In honor of the holiday, Chef Mac Arrington created this recipe for Chili Maine Lobster Salad Stuffed Avocado – spicing up lobster with fresh peppers, balanced by creamy ripe avocados and tangy yogurt.
Ingredients include 1 ½ cups hand-picked lobster meat, chilled, chopped; 1 mango, peeled, seeded, diced; 1 red onion, diced; 1 jalapeno, seeded, minced; 1 red bell pepper, seeded, diced; 2 tablespoons cilantro, chopped; 1 lime, juiced, zested; ¼ teaspoon crushed red pepper flakes; 1 tablespoon yogurt; 2 avocadoes, halved, seed removed; a pinch of smoked paprika; Cayenne pepper: as needed; salt and freshly ground black pepper to taste.
In a small bowl, combine mango, onion, jalapeno, red pepper, cilantro, lime juice, red pepper flakes and yogurt. Season with salt, freshly ground black pepper and a touch of sugar. Fold in chilled lobster meat.
Halve the avocadoes. Remove the seed and season the flesh with salt, pepper and cayenne. Top each half with a large scoop of lobster salad and top with fresh cilantro leaves and a dash of paprika. Enjoy!
About GetMaineLobster.com:
GetMaineLobster.com, a division of Black Point Seafood and Black Point Gourmet, hand-selects the finest Maine lobster, seafood and beef products for convenient distribution throughout the United States. Their passion is to make fresh, quality seafood readily available to customers across the country, which is why they buy from only the most trusted, well-established suppliers to ensure that they receive the finest products available.
GetMaineLobster.com was selected out of the more than four million small American businesses served by Chase bank to represent its new Platinum Business Checking product for its 2013 national advertising campaign.