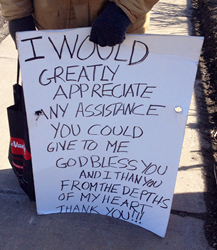 "Please help raise awareness and empathy for the homeless by visiting the FundAnything campaign and making a donation today"
Chicago, IL (PRWEB) April 19, 2014
Gene Pellegrene, 40, artist and small business owner, has been making 5-7 weekly care bags for the homeless in the community of Logan Square, Chicago since April of 2013. For the 2014 year he is raising funds for the ongoing effort of making these weekly care bags for the homeless. The care bags cost $20.00 each depending on the contents within a campaign effort to raise $6000 for the year. The care bags contain an assortment of ready-to-eat foods, toiletries, information about local assistance, clothing, first aid and more. There has been a great deal of support for these care bags and their recipients, featuring these efforts on the television program Windy City Live and the Huffington Post among others. Gene Pellegrene's efforts were honored by receiving the inaugural LaVerne Gage Award from The Revive Center for Housing and Healing.
Every weekend 5-7 care bags are created and delivered to homeless recipients in Logan Square, Chicago. Over the course of a year deeper understanding and relationships with these people has been shared via video interviews, social networking and blogs, documenting throughout the year their stories and the impact they have had on the community and the community on them. On April 19, a homeless man named Bud, expressed such joy that his video interview alerted his sister he was homeless. She hadn't known until that moment and is currently taking steps to get Bud off the streets.
The support from businesses and individuals has been tremendous. Many people from all over the US communicated how their view and understanding of the homeless had evolved since the inception of the care bags. Many of these people made their own care bags, some organized knitting parties for warm clothing as well as other donated goods. A highlight of 2013 was a group of seniors at Urban Prep Academy, Chicago, organizing, making and delivering care bags to homeless in downtown Chicago. 2014 should be no different as the awareness and caring for the homeless increases with public support. To date over 260 care bags have been made and delivered, more video interviews are being conducted and planned. New HD cameras have been purchased to distribute to the homeless so they may share with the public a deeper look into their lives. The new Community Care Box will be built and placed at a local coffee shop as a drop off/pick up point in the community to assist those in need.
Please help Gene continue this enlightening work with the homeless. So many great relationships have been cultivated with the homeless as well as connecting many people that are passionate about showing empathy and understanding to those in need. 100% of your donation goes to assist the homeless. Any funds that exceed the campaign goal, go into providing more care bags and assistance. Please visit care-bags.org for more information, weekly blog, video interviews and news in making these care bags.