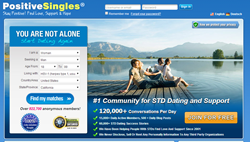 Los Angeles California (PRWEB) April 24, 2014
PositiveSingles.com, the largest online community and dating website for people who live with HIV, Herpes, HPV and other sexually transmitted diseases (STD), analyzed the age of all its members on April 15. The result shows that young STD carriers under the age of 25 are on the rise.
According to the survey, members aged 18-25 registered on the site after 2013 equates to 10 percent, which sees a 2 percent increase on 2012. According to the data reported by the Centers for Disease Control and Prevention (CDC), out of the 20 million new cases each year, 50,000 are new HIV infections and young people under the age of 24 account for nearly half of all new STD's. Studies by the CDC estimate that one in four young women within the 14 to 19 age bracket already have an STD, which is a worrying statistic.
The main reason as to why young people take up such a large pool of STD carriers each year is due to the lack of awareness relating to STD's. As shown in other PositiveSingles surveys, many have thought that they would never get infected and so had unprotected sexual relations. In addition to this, there is the school education system, in which it is sometimes prohibited to discuss the act of sex as well as preventative measures, even though many young people have already experienced sexual relations. A lack of proper and insightful education has seen more youths perform unprotected sex, which has seen the recent rise in STD carriers.
About PositiveSingles.com
As the largest and most trusted online dating site for people living with Herpes, HPV, HIV / AIDS, Hepatitis, Chlamydia, Gonorrhea, Syphilis and other STDs, PositiveSingles.com is completely anonymous and cares about members' privacy more than other sites. You are not required to submit any information that you are not comfortable with on this site. Whatever you are looking for Herpes dating, HPV dating, HIV AIDS dating, or any other STD dating, PositiveSingles.com is the best place.