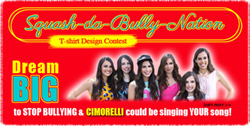 My approach is meant to capture kids' attention, said Morey 7th Grader Jess Miller. "I'd like the shirt to stand out when you pass it in the hallway as a reminder to think about what you do or send in social media, before it hurts someone.
San Francisco, CA. (PRWEB) April 18, 2014
The Rocket21 competition invited students from 8-17 to write anti-bullying slogans, design anti-bullying T-Shirts, and share their ideas for how to prevent bullying in their own communities and schools. Denver seventh grader Jess Miller was named the National Grand Prize Winner in the contest's Under 13 category. Ms. Miller scored high marks for the simplicity and authenticity of her slogan, design, and explanatory video featuring "Think Before You … " with images that reference current social media options. Said Miller, "My approach is meant to capture kids' attention. I'd like the shirt to stand out when you pass it in the hallway as a reminder to think about what you do or send in social media, before it hurts someone." Jess' video can be viewed here. The company also announced Grand Prize winners from New York and Los Angeles, in teen and team categories. Anti-bullying summits will be presented at the home schools of those students as well.
"Rocket21 is all about helping kids and teens advance their passions and pursue their dreams. The level of passion and creativity demonstrated by students across the country in support of anti-bullying is awe-inspiring," said Jodell Seagrave, Rocket21 Co-Founder and COO. "Clearly, this issue has touched many middle school and high school students in deeply personal and emotional ways. The powerful ideas and exuberant participation we observed during the competition reinforced our belief that youth really can change the world – now. We're excited to meet Jess and the Morey Middle School students and faculty.
Miller's selection as Grand Prize Winner includes personal rewards and recognition – and also benefits for her classmates and school. Miller will receive a $500 Cash Award to support her dreams for the future, and Morey Middle School will receive a matching $500 targeted for anti-bullying or other enrichment programs at the school. In addition, Grammy-nominated songwriter Steve Seskin will be on site April 17th and 18th – to work with sixth and seventh grade students to write an original, anti-bullying anthem for the school. On Friday, Rocket21 will host an Anti-Bullying Summit for all students in the school, featuring a live performance by Teen Choice Award Winning pop group CIMORELLI. Seskin and CIMORELLI will lead the entire school in the first public performance of the schools' new anti-bullying song. During the event, one hundred and seventy students will be wearing T-Shirts featuring Miler's winning design. After the event, Miller's shirts will be sold online at fightyourignorance.com and rocket21.com. Proceeds will benefit Morey Middle School.
Morey Middle School Principal Lynn Hawthorne noted, "We couldn't be more proud of Jess. Her selection as a National Grand Prize Winner reinforces the importance we place on developing leadership skills and civic engagement among our students. The Rocket21 events will excite and inspire our students."
For the contest, Rocket21 partnered with Fight Your Ignorance, an online apparel company, headed by 16-year old Piedmont, CA high school junior, Zayanne Rifai. Small in stature, Rifai was bullied as far back as she can remember and began to stand up for herself (and other kids) at a very young age. Rifai's strong belief that bullied children should be encouraged to speak up and call out the socially unacceptable behavior of bullies ultimately drove her to apply her passion and experience to develop Fight Your Ignorance. Fight Your Ignorance is an online apparel company dedicated to preventing bullying by showcasing messages that call out bullying as socially unacceptable.
To support the launch of Fight Your Ignorance, Rocket21 has developed a Fight Your Ignorance Group on Rocket21. Zayanne Rifai is available to connect with all Rocket21 Members as a Rocket21 Youth PRO, to share her experiences with bullying, creating advocacy programs, and starting a company.
About Fight Your Ignorance
F.Y.I. is committed and focused on exposing ignorance for its negative impact on young people. We execute on this mission by manufacturing and promoting trendy apparel featuring messages that call out certain behaviors as socially unacceptable. F.Y.I.'s messages are intended to stop ignoring divisive bully type behavior, and instead seek to shine a light on how shameful these actions are.
For more information visit http://www.fightyourignorance.com
About Rocket21
Rocket21 is the an opportunity and innovation platform designed to safely connect kids and teens
with professionals and experts representing industries, professions, passions, and movements that span the globe. Rocket21 provides youth with unprecedented opportunities and access to world-class experts and organizations while protecting them with a combination of state-of-the-art, real-time filtering and human moderation, extensive safety and security precautions, and a specialized infrastructure designed to keep kids safe.
Like Rocket21 on Facebook and follow @Rocket21 on Twitter. For more information contact
Media Relations at media(at)rocket21(dot)com.