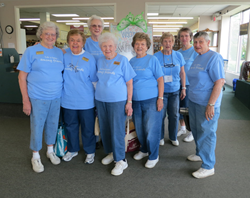 "Our residents remain connected to the outside community and are still very active," said Jeannette Magdaleno
schaumburg, il (PRWEB) April 18, 2014
More than $287,000 worth of volunteer service was accrued over the course of the past year at Friendship Village of Schaumburg. With busy and generous residents of the retirement community volunteering in excess of 8585 hours and non-resident community members volunteering 3,480 hours on campus, a total of almost 13,000 hours of service were accumulated. According to the Hands on Network, a national not-for-profit that sponsors National Volunteer Week, each hour of volunteer work is estimated to be worth $22.14, resulting in Friendship Village's impressive total. The fact that the greatest number of hours was for Friendship Village residents volunteering out and about in the area is significant. "People tend to think that they should come here to volunteer and help the seniors. But our residents show that seniors can have years of experience and compassion and are dynamic and energetic. They change the way that the outside community sees seniors. And our residents remain connected to the outside community and are still very active," said Jeannette Magdaleno, lifelong learning and volunteer coordinator at Friendship Village.
Friendship Village Schaumburg hosted its annual Volunteer Appreciation Breakfast on Tuesday, April 8th, for National Volunteer Appreciation Week. The event honored community members who come to Friendship Village to volunteer, in addition to Friendship Village residents who volunteer on campus as well as out in the community.
"The purpose of National Volunteer Week is to celebrate ordinary people doing extraordinary things to improve their communities. This one week highlights the enormous contributions that volunteers make every day," Magdaleno. "Volunteers never ask for or expect to be thanked but I'm asking you to join me this week in thanking these wonderful people who give so freely of their time and resources at Friendship Village and in the outside community."
Jeannette talked about service that has been done by Friendship Village residents volunteering outside of the campus. "Our residents volunteered over 4,720 hours outside of Friendship Village, throughout the Schaumburg area this past year. They help at the Children's Home and Aid Society, local schools, Alexian Brothers Medical Center, WINGS Resale Shop, Feed My Starving Children and Read to Learn Adult Literacy Program," she said. "Our volunteers believe in and are committed to giving back to the community. They don't expect anything in return for giving their valuable time, but we hope they know how invaluable their work is to those who receive their help."
On-campus volunteer activities this year included full implementation of the Friendly Visitor program, partnering with students from area schools, and working with therapy dogs.
The impressive total number of volunteers and hours donated during the year were reported as follows:

Friendship Village residents volunteered in the Schaumburg area community: 4,720 hours
Friendship Village residents volunteered on Friendship Village campus: 3,865 hours
Non-resident/community members volunteered on Friendship Village campus: 4,380 hours
Number of Friendship Village resident volunteers: 341
Number of non-resident/community volunteers: 241
Total number of active volunteers: 582