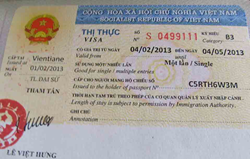 (PRWEB) April 18, 2014
Vietnamvisa.org, one of the most reliable websites for obtaining a visa approval letter in Vietnam, has been operated by Smile Travel Vietnam Company since 2008. Some visitors do not know why and how to get a legal visa on arrival when they are going to Vietnam. Yesterday, 8 frequently asked questions (FAQ) were listed on its site.
Here are 8 FAQs for obtaining Vietnam visas on arrival:
1. What is the visa approval letter?
The Visa approval letter is a letter issued by Vietnam Immigration Department. It allows customers to enter and exit Vietnam for a given time period. At the airport, the corresponding authority will verify the details on the approval letter based on passport and travel documents. Customers will surely be granted entry upon arrival in Vietnam with the approval letter if they filled in the application form with the correct details.
2. How to receive a visa approval letter?
A colored scanned copy of the approval letter will be sent to visitors by email, so please make sure that you have provided the correct email address. You can also request a copy by fax. In this case, please provide your fax number and email to sales(at)vietnamvisa(dot)org.
Note: the approval letter is in PDF format, so please make sure you have the latest version of Adobe Acrobat reader in order to open the file.
3. Do you require a scan of my passport scan?
In most cases, a passport scan is not required for an online visa application. However, if the Immigration office wishes to verify your information, you are required to send them a scan copy of your passport. In such cases, you will be notified by email immediately.
4. What is stamping fee and how much is it?
The stamping fee is required to pay at the Vietnamese airport in order to get the official visa stamped in your passport. The stamp fee must be paid in cash, no credit cards are accepted.
Stamp fee at the airport (price per person)
45 USD for a single 1 month/3 month entry visa
95 USD for a multiple 1 month/ 3 month entry visa
Currencies accepted: Vietnam Dong (VND) and USD (US Dollars)
5. How long does it take to get the approval letter?
Normally, the approval letter is processed and emailed within two (2) to three (03) business days (excluding Saturday, Sunday and National Holidays).
If you submit your application and pay the fee before 12.00 PM Vietnam time on a Working day (Monday-Friday), we will send the letter of approval by 18:00 PM on the following (next) working day. In urgent cases, kindly get more details at Rush service.
Note: The above processing time does not apply for Friday afternoon (after 12.00 PM) + Saturday and Sunday. Please consider the time difference between Vietnam and your country.
6. What if I travel to Vietnam by Land or Cruise?
Please be advised that visa on arrival service is good for air travel only, if you plan to enter Vietnam by land or cruise, you will need to contact the Embassy to obtain your visa in advance.
In short: Visa-on-Arrival is NOT available for entry by land and cruise ship.
7. Should I book for the flight first or after receiving my visa?
We would like to recommend that you should get the visa on arrival first and then book your flight. Certainly, the date of arrival must be ensured before applying for the visa.
8. Is there any problem if I change the airport to pick up the visa?
It does not matter when you change the airport to pick up the visa. You can pick it up at 3 international airports such as Hanoi, Danang and Hochiminh airports.
To find more about the FAQ for Vietnam visa approval letter, please visit: https://vietnamvisa.org/faq.
About Smile Travel Vietnam Company
The Smile Travel Vietnam agency was founded in 2008, designs and operates travel programs for both domestic and international tourists. Booking hotels, air tickets or renting cars service is also provided with reasonable price. For more information, call (+84) 976 127 023 or visit http://www.smiletravelvietnam.com/.