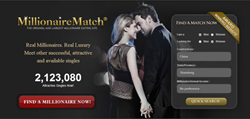 Los Angeles (PRWEB) April 23, 2014
They make it to the big league, the NBA, along with their big salaries, big games and big built bodies. Many players also have big tempers and bad behaviors, which make women hate these players as women love them. In April MillionaireMatch.com wants to know who are the richest single NBA players that are worth dating. And these top five NBA ballers make the list for 2014:
1. At the top of the list is 6' 5" Wesley Matthews. He played college basketball for the Marquette Golden Eagles and currently plays for the Portland Trail Blazers. He's the son of former NBA star Wes Matthews. The younger Mr. Matthews has a net worth of $9.8 Million.
2. Austin Rivers at 6' 4" comes in number two. He's the son of legendary NBA player and now coaches Doc Rivers of the Los Angeles Clippers. The younger Mr. Rivers currently plays for New Orleans Pelicans. His net worth is $1.75 million.
3. Klay Thompson, with height 6' 7" (2.01 m) and weight 205 lbs (93 kg), ranks number three. He's known as an elite shooting guard that currently plays for the Golden State Warriors. His net worth is $4.3 Million.
4. Al Harrington. He played for different teams such as Golden State Warriors, New York Knicks, Denver Nuggets, Orlando Magic, and Washington Wizards. His cousin Dahntay Jones was also in the NBA. Mr. Harrington's net worth is $36 Million, his height 6' 9" (2.06 m) and weight 245 lb (111 kg).
5. Last but not least is Spencer Hawes. He was selected by the Sacramento Kings in the 2007 NBA Draft. He is the nephew of Steve Hawes, a retired NBA player. The young Mr. Hawes currently plays for Cleveland Cavaliers. His net worth is $14 Million, his height 7' 1" (2.16 m) and weight 245 lb (111 kg).
Source: http://www.therichest.com/celebnetworth/category/athletes/nba/