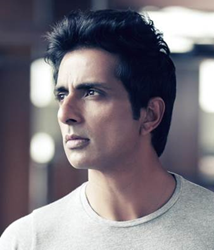 Sonu Sood : Yepme.com is India's first online Fashion brand and I am very excited to be endorsing their much reputed sportsline- PlayCool.
New Delhi, Delhi (PRWEB) April 19, 2014
Yepme.com, India's first online fashion brand, have got on board popular movie star Sonu Sood to endorse their line of sportswear and sports shoes. Sonu will be endorsing 'PlayCool'- Yepme's sportswear line that includes the latest in men's fashion such as Crew neck tees, Polos, Muscle tees, workout Vests, Tracksuits and Sports shoes.
Mr. Vivek Gaur, CEO, Yepme.com, said, "Young men and women between the age of 20 and 29 have become extremely fitness conscious today, with sports and exercise steadily becoming a regular part of their lifestyle. They are searching for fashionable sportswear that will make them look good while they are playing or working out. This has fueled the demand for our sportswear range and has made it amongst the fastest growing categories on Yepme. We are glad to have someone as fitness conscious as Sonu Sood to endorse 'PlayCool'. Being a celebrated actor across several film industries in India, as well as being a fit model, Sonu is a rage among the youth of the country and perfectly reflects the image of 'PlayCool'. With Sonu joining hands with us, we are optimistic that our sportsline will see a surge of fashion on the field."
Expressing his excitement at joining hands with Yepme.com, Mr. Sonu Sood said, "Yepme.com is India's first online Fashion brand and I am very excited to be endorsing their much reputed sportsline- PlayCool. I believe fashion in its truest sense is style that is easily available to all, and Yepme has done just this. I personally love Yepme's clothing line and I am glad to be a part of this fashion revolution."
About Yepme.com:
Launched in August 2011, Yepme is India's first Online Fashion Brand which caters to young men and women between 20 and 29 years of age. It services over 1000 cities monthly and delivers close to 500,000 units to its customers every month. Yepme's mission is to democratize fashion in India.
With a fan following of over 4.4 million on Facebook, Yepme.com has created benchmarks in the online fashion industry. It was rated as one of the 5 top start-ups to watch out for by Forbes, for revolutionizing e-commerce industry. Amongst fashion brands, Yepme has one of the highest social engagements on Facebook and has been ranked as one of the top 20 fashion brands in the world (As per Stylophane). The brand was awarded "Web-only Brand of the Year" in 2014 by eTailing India.
Headquartered in Gurgaon, the company bears a strong foundation under the leadership of IIT, IIM alumni, Vivek Gaur (ex Unilever), Sandeep Sharma (ex Accenture) and Anand Jadhav (ex Pantaloon). To know more about Yepme.com, please visit http://www.yepme.com.