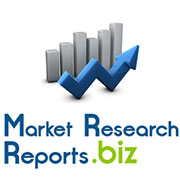 Global Graphene Market 2014 - 2018
(PRWEB) April 18, 2014
The report titled "Global Graphene Market: Trends and Opportunities (2014-2018)" provides an in-depth analysis of global graphene and its end-use in different sectors. It also accesses the key opportunities and underlying trends in the market and outlines the factors that are and will be driving the growth of the industry in the forecasted period (2013-18). Further, key players of the industry like Applied Graphene materials, Graphene Nanochem, Vorbeck Material, XG science and Angstron Material are profiled.
Browse full report with TOC: http://www.marketresearchreports.biz/analysis-details/global-graphene-market-trends-and-opportunities-2014-2018.
Application Coverage
R&D
Composites
RFID
Super capacitors (Electrical)
Super capacitors (Electronic)
Electronic Sensors
ITO Replacement
Company Coverage
Applied Graphene material (AGM)
Graphene Nanochem
Vorbeck materials
XG science
Angrstron materials
To download full report with TOC: http://www.marketresearchreports.biz/sample/sample/195469.
Executive Summary
Graphene refers to tightly packed layer of carbon atoms that are bounded together in a hexagonal honeycomb lattice. Graphene, also called the 'wonder material' by scientists and researchers is expected to replace silicon and copper in the future because of its incredible properties. Graphene products have already hit the market and are being used in day to day products like contact lenses, racquets, water filters, and antennas. Graphene has the potential to completely transfigure entire industries, creating flexible phones and touch screens, tiny self-powered oil and gas sensors and even synthetic blood.
Further, strong research and development efforts will facilitate graphene's market penetration as a result of expansion of its scope and application sectors. Although grapheme finds its applications in various sectors, it is anticipated that composite sector will account for half of the total market of graphene in the next five years.
Factors driving growth of global graphene industry market are increase in number of manufactures in the market, strong R&D, uses of graphene in different application sectors and increase in demand and production. In recent years, smaller companies have been entering in number of application sectors producing innovative products using graphene. However, high cost, absence of band gap, unsuitable properties and mounting cost in R&D pose major challenge to the industry's growth. Major trends prevailing in global graphene market are consolidation in the industry and intellectual property rights.
To inquiry before buying report: http://www.marketresearchreports.biz/analysis/195469.
Table of Contents
1. Executive Summary
2. Graphene: Introduction
2.1 Graphene production
2.2 Graphene Application Sectors
2.3 uses of Graphene
3. Global Graphene Market Analysis
3.1 Global graphene Market size by volume (Actual & Forecasted)
3.2 Global graphene Market size by value (Actual & Forecasted)
4. Global Graphene Market Analysis- By Application
4.1 Applications of graphene in R&D
4.2 Applications of graphene in composites
4.3 Applications of graphene in RFID
4.4 Applications of graphene in super capacitors (electrical)
4.5 Applications of graphene in super capacitors (Electronic)
Latest Reports:
Automotive Electronics Markets In China
http://www.marketresearchreports.biz/analysis-details/automotive-electronics-markets-in-china
China's demand for automotive electronics has grown at a fast pace in the past decade. In the next five years, both production and demand will continue to grow. This new study examines China's economic trends, investment environment, industry development, supply and demand, industry capacity, industry structure, marketing channels and major industry participants. Historical data (2003, 2008 and 2013) and long-term forecasts through 2018 and 2023 are presented. Major producers in China are profiled.
Table of Content
I. INTRODUCTION
Report Scope and Methodology
Executive Summary
II. BUSINESS ENVIRONMENT
Economic Outlook
Key Economic Indicators
Industrial Output
Population and Labor
Foreign Investment
Foreign Trade
III. AUTOMOTIVE ELECTRONICS INDUSTRY ASSESSMENTS
Automotive Electronics Industry Overview
Market Size
Market Growth Drivers
Major Producer Facility Locations and Output
Market Share of Key Producers
Potential Entrants
To download full report with TOC: http://www.marketresearchreports.biz/sample/sample/193646.
IV. AUTOMOTIVE ELECTRONICS PRODUCTION & DEMAND
Overview
Automotive Electronics Production and Demand
Demand of Automotive Electronics by Region
Engine Controls
Ignition System Controls
Fuel Injection System Controls
Transmission System Controls
Other Controls
Instruments
Dashboard Instruments and Displays
V. AUTOMOTIVE ELECTRONICS MARKET OUTLOOK
Automotive Electronics Market Outlook Overview
Government and Business Consumer Market Outlook
Consumer Market Outlook
Automobiles Production and Demand
Passenger Cars
Trucks
Grow Lights For Agriculture Market Shares, Strategies, And Forecasts, Worldwide, 2014 To 2020
http://www.marketresearchreports.biz/analysis-details/grow-lights-for-agriculture-market-shares-strategies-and-forecasts-worldwide-2014-to-2020
Research announces that it has published a new LED Grow Lights study. The 2014 study has 459 pages, 221 tables and figures. Worldwide markets are poised to achieve significant growth as the food supply for the world starts to adopt automated process. Grow lights have become more sophisticated and less expensive to run as solar and wind energy are adopted by greenhouses and plant factories. LED grow lights offer quality for growing, homogenous light distribution at precisely the right wavelengths.
LED grow lights are more powerful and efficient than the older generation high-pressure sodium and metal halide bulb grow lights. They lower the electricity bill and produce less heat. Less heat allows putting the light closer to plants, they do not get burned. The quality of light is better for growing with LED specialized grow lights. LED specialized grow lights offer homogenous light distribution. Light distribution at precisely the right wavelengths is made possible. LED light sources offer light distribution for good photosynthetic response. Vendors are able to stimulate plant growth. Flora series LEDs provide accelerated photosynthesis and energy savings.
To download full report with TOC: http://www.marketresearchreports.biz/sample/sample/195176.
Food factories produce organic vegetables. This represents a next step in the application of automated process to everyday life. Automated process for farming provides immediate help for food stores. Plant factories support farming practices that are not dependent on the climate. Food factories produce organic vegetables 24 hours a day. With the land available for farming depleting quickly, new types of farming are evolving.
Grow Lights Market Driving Forces
Demand for ability to grow food consistently
Demand for ability to grow food locally
Can grow food in warehouses
Can grow food in the home
Dedicating space that is efficient for producing food
Fresh, sanitary food available consistently
Food factories
A plant factory allows the growing of vegetables indoors all year round using LED lights that minimize power consumption. It is a system that artificially creates the environment necessary for plants to grow by controlling the amount of culture solution, air, and light from light-emitting diodes (LED). Because the amount of light, temperature, humidity, and carbon dioxide (CO2) concentration levels can be optimized without being affected by the weather, the growth rate of vegetables is two to four times faster than those grown in open-air fields, and yields are ten to twenty times higher.
About Us
Marketresearchreports.biz is the most comprehensive collection of market research reports. Marketresearchreports.biz services are especially designed to save time and money of our clients. We are a one stop solution for all your research needs, our main offerings are syndicated research reports, custom research, subscription access and consulting services. We serve all sizes and types of companies spanning across various industries.
Contact Us:
Office: United States
State Tower
90 State Street, Suite 700
Albany, NY 12207
Tel: +1-518-618-1030
E: sales(at)marketresearchreports(dot)biz
Web: http://www.marketresearchreports.biz/