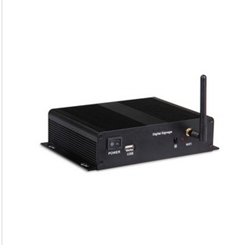 (PRWEB) April 20, 2014
Recently, Digital-Signage-China, a popular China digital signage supplier, has unveiled its new range of DSP-100E Digital Signage Players. According to a senior spokesman for the company, these high end players are now provided at discounted rates, up to 30% off. The special offer will be valid from today until May 05, 2014.
"We are excited to unveil our new DSP-100E Digital Signage Players and offer the deep discounts for our new and old clients. I think worldwide clients will be happy with these affordable and practical items. They are really cheap and useful. By providing these affordable items, we want to attract more people. Please note that the promotion will last until May 05. Customers who are interested in our new digital signage players should visit our website as soon as they can," the senior spokesman says.
As a matter of fact, Digital-Signage-China has been working in the industry for a long time. The company knows well about customer needs, and all its products are carefully manufactured by top experts. Each of them is guaranteed to be good.
Digital-Signage-China is now one of the leading suppliers in the current market. It is always ready to help worldwide clients to save money and time. It is selling many kinds of players at its website.
Despite of the low prices, Digital-Signage-China never compromises on product quality. The company insists on offering excellent digital signage products at the lowest possible rates.
About Digital-Signage-China
Digital-Signage-China is a well-known digital signage technology company with the eligibility of production, installation and maintenance of digital signage products. The company has much experience in the industry, and its customers are provided with the best resources and professional tips. For more information about the business and its digital players, visit http://www.digital-signage-china.com/?content/product/26/index.html.