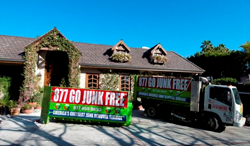 Los Angeles, CA (PRWEB) April 18, 2014
In the wake of two appearances on TLC's reality show Hoarding: Buried Alive, Go Junk Free America! has launched a new website (http://www.gojunkfree.com) to highlight their environmentally-friendly approach to junk removal in the Greater Los Angeles Metro Area.
Go Junk Free America! provides junk, debris, spa, and e-waste removal for residential and commercial customers, including new-home owners, self-storage renters, renovation and construction contractors, realtors, property managers, and chronic hoarders.
According to Evan Berger, President of Go Junk Free America!, the company reuses or recycles over 80% of the items it collects. This reuse policy includes donations of many of its high-quality goods to charities, such as local schools and police youth risk organizations. The value of these donations total thousands of dollars annually.
The company also employs various other environmentally-friendly practices and policies, which the company seeks to highlight on its new website, such providing uniforms, clipboards, and business cards made of recycled materials to its employees and painting its truck fleet with ultra-low VOC paint.
The company's new site, as well as its existing blog, target customers throughout Los Angeles, Orange, Ventura, and San Bernardino Counties, such as homeowners, construction contractors, spa owners, chronic hoarders, and realtors who need junk removed from properties prior to placing them on the market. The new site provides ways for potential customers to check pricing, ask questions, and book services online.
About Go Junk Free:
Go Junk Free America! provides eco-friendly residential and commercial junk removal services to the Greater Los Angeles Metro Area, including junk and debris hauling, dumpster rentals, spa removal, and e-waste collection. They recycle or reuse over 80 percent of the items they pick up.