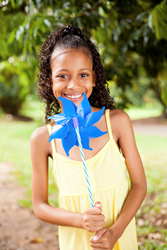 Hersey, MI (PRWEB) April 22, 2014
Michigan's future success relies on the healthy growth and development of all children. During April, National Child Abuse Prevention Month, Eagle Village encourages individuals to step forward to ensure all children have the safe, stable, nurturing environments they need to thrive.
Citizens have the ability to make a difference by encouraging youth in their families, communities, and schools. Additionally, reporting something that concerns you is a very big step toward protecting a child. "As an adult, if you have the privilege of a glimpse into the life of a teen or child, and you see something that worries you, that is your window of opportunity to make a difference," said Lisa Spaugh, Marketing Coordinator for Eagle Village. "We are at a point now where standing by and not acting when you have a concern can impact the entire future path of that child or family. Your action could be as simple as a phone call or passing along a flyer and as committed as walking down that path with them to help along the way. Everyone can make a difference in some way."
One of the most effective ways to prevent child abuse and neglect from occurring is to ensure all parents have the knowledge, skills, resources, and social support they need to provide safe, stable, nurturing environments for their children.
Eagle Village has begun partnering and organizing Victims to Victors educational events at many local schools, sporting events, and community venues in an effort to make Child Abuse Prevention something everyone thinks about all year long. Coming this summer will be a V2V 5K Run/Walk. https://www.eventbrite.com/e/1st-annual-5k-trail-runwalk-to-benefit-eagle-village-tickets-10659361437. Watch in the fall for V2V football games.
Eagle Village is a non-profit family treatment center providing intervention services and camps, residential treatment, foster care, and adoption services for all counties in Michigan. If you know of a family in crisis that may benefit from these programs, contact Eagle Village at 231-832-2234; http://www.eaglevillage.org.