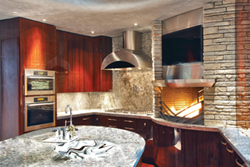 There are businesses that have undergone an extensive testing, review and inspection process than can take as long as 3 years.
Cleveland, OH (PRWEB) April 22, 2014
You have decided to make your dream kitchen with natural stone, probably granite, a reality and now the fun and excitement begins. It's fun because the entire process of re-doing your kitchen is a new experience for most folks. It's exciting because when it is complete and all of the stone pieces are in place, no one else in the world will have a kitchen exactly like yours. It's one of a kind because no two pieces of stone are alike.
But where to start? The Marble Institute of America (MIA) is a world-wide organization that represents people who quarry, distribute, fabricate, install and renovate natural stone and is the place to start. By visiting the MIA website (http://www.marble-institute.com), you can learn a great deal about the stone types available, their applications, the design and installation process, and how to clean and maintain the stone surface to assure years and years of performance. It's a great educational experience that will help you plan your new kitchen or utilize stone elsewhere in your home -- bathrooms, fireplace surrounds, etc.
The first thing you need to do is find a reputable fabricator who can help you remodel your kitchen. You can do that right on the MIA website with a few clicks of the mouse. The site contains a worldwide directory of all MIA members. These are stone industry professionals who adhere to a rigid Code of Ethics that separates them from most others in the stone business.
MIA members are dedicated to making you happy with the end result and they do so primarily by adhering to the Dimension Stone Design Manual, a publication that sets the standards for stone fabrication and installation. When you see the MIA membership certificate at a fabricator's place of business or the MIA member logo on its letterhead or promotional material, you can be sure that they are qualified and capable.
Most MIA members have years and years of experience in the business and legions of satisfied customers. They can answer your questions about the types of stone used in the home. They can review the wide array of colors available in each, the choice of finishes, what stones are the easiest to maintain, etc. MIA members are highly professional and ethical. Some of them are large enough that they have their own inventory of stones from which to choose. Others rely on natural stone distributors who stock thousands of stone slabs.
It is important to know that MIA also has a group of fabricators who stand out above the rest. These companies are on the select list of MIA Accredited Natural Stone Fabricators, businesses that have undergone an extensive testing, review and inspection process than can take as long as 3 years. Only a small fraction of MIA's members have earned this distinction, but more are being added each year. If there is an MIA Accredited Member in your area, it would be advantageous to check them out. Whomever you choose from the MIA directory, Accredited or not, you can be certain their ultimate goal is the highest level of project quality and customer satisfaction.
At MIA, you are just a few clicks away from starting your dream kitchen. To find a qualified fabricator, go online to http://www.marble-institute.com and click "Member Directory". A host of suggestions and tips are included in the "For Consumers" section of the website.