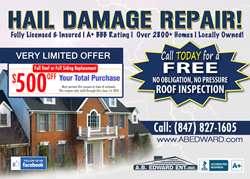 When it comes to home exteriors, choosing the right company for the project is crucial. Your home is your biggest investment and A.B. Edward is here to protect it.
Wheeling, Ilinois (PRWEB) April 18, 2014
If you live in Chicagoland area there is the strong possibility that the roof on your home may have been damaged by the hailstorm that took place on April 12th 2014. You may be thinking to yourself that you remember the hailstorm but looked up at your roof and did not notice any damage. The fact of the matter is you can't see hail storm damage from the ground. The truth is many home inspectors do not even know what to look for because they receive no formal training on hail-damaged roofs.
A homes roof must be physically inspected by a person who has training and experience to determine if there is actual hail damage. Insurance companies send their adjusters to special training so they can properly identify hail damage to a home.
With hail damage you will see some of the tiny granules of a roof missing. Over time the roof damage will get progressively worse and shorten it's lifespan. Eventually your roof will end up leaking.
Even if your roof has minimal damage you have a valid insurance claim should file with your insurance company. The damage caused by a hailstorm might not cause your roof to leak for years. This makes it critical to have someone who is qualified inspect your roof.
What to look out for:
Storm chasers are companies that follow severe weather from area to area, completing home repairs (generally roofs and siding) that are damaged by hail and wind. They collect homeowners' insurance claim checks in payment for their services, complete the work (often shoddily) before moving on to the next storm ravaged area. Many of the fly-by-night companies bring in 20-30 salesmen and start knocking on doors right after a storm hits. Experts say storm chasers call this method "low-hanging fruit" because the homeowners are panicking and are willing to sign with anybody that's nice to them and says they could get them a no-cost roof.
As stated previously, Illinois Attorney General Lisa Madigan urges residents with damaged homes and businesses to be wary of scam artists looking to profit from the unfortunate weather related damage. Madigan suggests avoiding quick decisions, dealing only with licensed contractors and insisting on a written contract. She advises consumers to never make a full payment until work is done to their satisfaction. Consumers have the right to cancel a contract within three business days if they signed it based on the contractor's visit to their home.
How to spot a storm chaser:
– Come door to door and try to get you to sign something immediately.
– Use high-pressure sales tactics.
– Offer you a "Free Roof" or "No-Cost Siding" or offer a way around paying a deductible (this is insurance fraud!)
– Have out-of-state license plates or drivers license (and YES! you can & should ask to see a drivers license to verify identity.)
– Are unable to produce recent, local references (or references from before the storm date)
– Are unable to produce local supplier references (always check references from potential contractors' suppliers. If suppliers aren't paid in a timely fashion by a contractor, they can legally place a lien on your home)
– Have no proof of manufacturer certifications (large manufacturers offer their own certifications to established legitimate contractors. Always look for GAF Master Elite Contractors.
– Are unable to produce a roofing license and certificate of insurance with the same identification information. A legitimate local company should show you an IL Roofing License and a Certificate of Liability/Workers Compensation both issued in the same name. If the names don't match, you may not be protected.
– Are unlisted, have unsatisfactory ratings or have complaints filed against them with the Chicagoland Better Business Bureau.
What to do if you encounter or think you might have hail damage:
A.B. Edward Enterprises, Inc., has been the leader in home exteriors for he Chicagoland area with an unblemished A+ Rating with the Better Business Bureau and a proven track record with Angie's List as a Super Service Company. When it comes to home exteriors, choosing the right company for the project is crucial. Your home is your biggest investment and A.B. Edward is here to protect it. Call them today at (847) 827-1605 for a 100% FREE-INSPECTION, or visit their website at http://www.abedward.com.
About A.B. Edward Enterprises, Inc.
Since 2003 A.B. Edward Enterprises, Incorporated has been providing Chicagoland homeowners with products and installations in the roofing, siding, windows and gutters industry. A.B. Edward has an unblemished A+ Better Business Bureau rating, an Angie's List Super Service Award Company, and also delivers top industry leading products such as GAF, James Hardie Siding Products, Pella Windows and Doors, DaVinci Roofscapes, Mastic Exterior Siding and more.