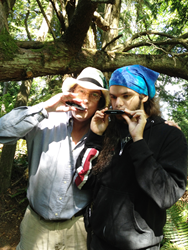 The Pulmonica handbook provides all the information you need to maximize the effectiveness of the pulmonary harmonica.
Sarasota, FL (PRWEB) April 20, 2014
As spring approaches, millions of Americans will suffer from the onset of allergies, combining with the staggering statistics of individuals who already have breathing difficulties, be it from illnesses, nasal blockages, COPD, recent surgeries, and more. In light of the seasonal change, Harmonica Techs, the creator of the Pulmonica (http://www.Pulmonica.com), have published an inexpensive handbook that may be useful to those struggling to improve their breathing.
"For those of us who are healthy, breathing is an unconscious, automated function that we rarely think about – that is, until pollen count increases, or until surgeries or other medical complications or illnesses come into play," said Dana Keller PhD. "As the inventors of the Pulmonica, we're dedicated to helping individuals breathe better, which enhances a person's health and quality of life exponentially." The new Pulmonica Handbook is available on Amazon Kindle for only $.99 and includes instructions and photographs detailing proper use and care of the pulmonary harmonica, as well as tips on improving your breathing and using the Pulmonica as a meditation aide.
"As always, note that you should consult your physician to address any health matters," said Dr. Keller. "We have found that the Pulmonica is an effective instrument that plays soothing notes, but also strengthens one's respiratory system. This handbook should provide all the information you need to maximize that effectiveness."
About Pulmonica
The Pulmonica is hand-crafted in a small village in Germany by the world's oldest harmonica manufacturer, Seydel. Find more information at http://www.pulmonica.com and at the Pulmonica page on Amazon.com. The Kellers are available to speak to groups about harmonicas in health care and the Pulmonica. They may be contacted through their website, http://www.Pulmonica.com, or by calling 888-382-9283.