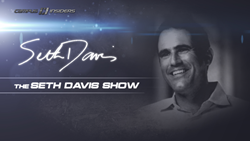 CHICAGO, IL (PRWEB) April 19, 2014
Campus Insiders (http://www.campusinsiders.com), the leading digital content syndication source and online destination for college sports fans, is pleased to announce that its original series "The Seth Davis Show presented by Cadillac" earned the Outstanding Webisode Series at the 2014 Cynopsis Sports Media Awards. The awards honored outstanding work in the sports media industry over the past year, and had categories that also included television series, radio and live events, and digital and marketing campaigns.
The weekly "Seth Davis Show," hosted by veteran sports journalist Seth Davis, won the award over competition from CBS Sports, NBC Sports, the Weather Channel, the Pac-12 Network, Sports Illustrated and Universal Sports Network.
"This is a tremendous accomplishment and recognizes the hard work, creativity and skill of our team," said Crowley Sullivan, Executive Vice President and General Manager, Campus Insiders. "It helps further validate the value and potential of our Campus Insiders platform."
The "Seth Davis Show" featured 35 episodes of in-depth, on-location interviews with some of the biggest stars in the world of college sports, including Billy Donovan, Jimbo Fisher, Steve Spurrier, Bob Stoops, Tom Izzo and Dick Vitale, as well as Phil Jackson, Doc Rivers and NCAA President Mark Emmert. Besides Davis, key show personnel include executive producer Josh Wine, producers Ryan Peterson and Jim Gorman and editor Brian Kosisky.
Campus Insiders features ad-supported content syndicated to websites, mobile applications, over the top devices and other Internet Protocol delivered experiences. Current partners today include Yahoo Sports, Rivals, USA TODAY Sports Digital Properties, YouTube, Synacor's cable, satellite and telecom customer portals, Dailymotion, MobiTV, AppleTV, Roku and more.
About Campus Insiders
Campus Insiders is a partnership between IMG College and Silver Chalice, making it the premier online destination and leading digital content syndication source for college sports fans. Campus Insiders features high-quality unrestricted content, including live studio shows, video on demand (VOD), and more than 2,000 live games, available on multiple platforms and distribution points.
For more information visit, http://www.campusinsiders.com.
Facebook: http://www.facebook.com/campusinsiders
Twitter: http://www.twitter.com/campusinsiders
Instagram: http://www.instagram.com/campusinsiders
YouTube: http://www.youtube.com/campusinsiders
Contact:
Marlon LeWinter, Catalyst Public Relations
212-774-6874
mlewinter(at)catalystimg(dot)com
Linda Leludis, Silver Chalice
312-624-6105
lleludis(at)silverchalice(dot)com