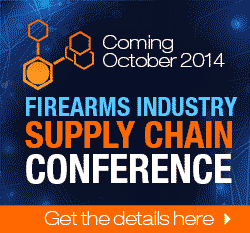 This is the first conference of its kind, excluding new product discussions and dedicating attention for all FFLs to discuss compliance, operations, logistics, and technology.
Hartford, CT (PRWEB) April 21, 2014
Orchid Advisors, the only management consultancy dedicated to the firearms industry, announces the first collaborative supply chain conference for the General Counsel, Chief Operating Officer, Chief Information Officer and their staff. The Orchid Advisors 2014 Firearms Supply Chain conference will be held October 6-8, 2014 at the Turnberry Isle Resort and Club in Aventura (Miami), Florida.
"This conference is the first of its kind, excluding new product discussions and dedicating attention to compliance, operations, logistics, and technology. It is purposely designed for all FFL types - Manufacturers, Dealers, Importers, Wholesalers, Distributors, Freight Handlers and even 2nd Tier Subcontractors," says Jon Rydberg, CEO of Orchid Advisors.
The conference will feature accomplished industry executives such as Robert Cicero and Mark Smith, General Counsel and VP of Operations at Smith & Wesson. Rob and Mark are amongst a number of key note and breakout session speakers that will discuss:

Collaborative supply chain strategies for a volatile regulatory environment
Best practices for establishing an ongoing culture of compliance
Advances in serial number lasers, optical scanning and Bound Book management
Case studies that include modern ERP software and operational internal controls
Strategies for monitoring operations and logistics activity throughout the supply chain
Benchmarking standards for compliance, operations and technology
The technology component of this conference will focus on a range of topics that stem from the Orchid Advisors Advanced Technology Working Group. This working group includes major industry players from the top 15 manufacturers, distributors and retailers who believe that compliance requires cross-industry collaboration and should not be used as a competitive advantage.
Orchid Advisors will host exhibitors and sponsors at the conference and encourages all companies that develop and apply technologies, compliance and supply chain solutions for the firearms industry to explore exhibit and sponsorship opportunities at the 2014 Supply Chain Conference. For more information, contact Danny Briere at 1-855-ORCHID-0.
More information about the conference can be found at: http://www.orchidadvisors.com/firearmsupplychain2014.
About Orchid Advisors – Transforming the Compliance EcosystemTM
Orchid Advisors is a strategic management consultancy focused on transforming the worlds of operations, technology and compliance in selected industries. Our initial entry market is the Firearms Industry where Orchid serves more major manufacturers than any other consulting firm. Orchid clients hire the firm to help reinvent business processes, implement technology solutions to support that change, and strategically plan and monitor resulting sustainable audit and compliance cultures in their organization. Orchid Advisors bring the depth and breadth of Big Four consulting with the innovation, thought leadership, and economies of a boutique analyst firm. For more information, see http://www.orchidadvisors.com.
MEDIA CONTACT:
Danny Briere
dbriere(at)OrchidAdvisors(dot)com
1-855-ORCHID-0