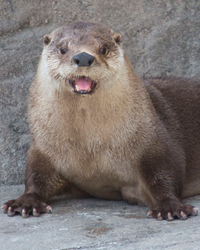 'When designing this habitat, we looked at it from the otters' point of view,' said Dave Collins, the Tennessee Aquarium's curator of forests.
Chattanooga, Tennessee (PRWEB) April 19, 2014
Construction workers are adding the finishing touches to River Otter Falls which will officially open on May 2nd inside the Tennessee Aquarium's Cove Forest. This dramatically transformed habitat is the most extensive redesign in the 22-year history of Chattanooga's top attraction.
So what does it take to build a state-of-the-art home for a romp of seven feisty otters? To begin, you have to think like an otter. "When designing this habitat, we looked at it from the otters' point of view," said Dave Collins, the Aquarium's curator of forests. "North American River Otters are really land animals that are very good at swimming. To fulfill their needs as terrestrial creatures, we've changed the water to land ratio drastically."
In doing so, there was more "edge effect" created. Collins says shorelines are very important to these active animals. "Otters really work those edges looking for food as well as using the shore to enter and exit the water frequently." So incorporating a lengthy stream with various pools was one goal.
Another goal was providing digging pits. Visitors might be surprised to learn that river otters love to play in the dirt. "They kind of take the equivalent of what we think of as bird dust baths which helps maintain their fur," said Collins. "They love to roll around in sand, gravel, or mulch. So Aquarium guests will see the otters rooting around and digging in these areas looking like a bunch of kids playing in a sandbox."
Two years before constructon began, Aquarium staff began examining the existing space in the Cove Forest to determine the best use of the room to accomplish these goals and many others. "We began by creating a 3D computer model of the space, divided into one-foot squares," said Jeff Worley, the Aquarium's exhibit & graphic designer. "A clay model was built as a visual tool to use during design workshops with otter experts from across the country." Several Aquarium team members also travelled to other zoos and aquariums to gather best practices from top otter exhibits in the country.
Following the lengthy design process, the roadmap for demolition and construction was laid out. "Construction planning took more than a year before the work began," said Rodney Fuller, the Aquarium's facility and safety manager. "Demolition was the most challenging aspect. We had to remove 300 tons of rockwork one wheel barrow at a time and the jack-hammering was all done outside of normal operating hours."
Fuller credits the Counts Company, a local general contractor, for keeping another complicated project on time and on budget. "This was a great opportunity to work with the Aquarium's excellent team who are committed to providing the best habitat for these fascinating creatures," said general contractor Stief Counts. "Now that our job is done, it's thrilling to see the otters twirling underwater and playing like they're on a playground in their new home."
Local subcontractors Jake Marshall Mechanical, Lawson Electric and Yerby Construction, along with Cemrock and Hammerhead International, were also instrumental in building the new otter habitat. To appreciate the full scope of their work, the Aquarium produced a construction time-lapse video which is available online. Eight months of work is compressed into eight minutes of high-speed action.
Collins emphasizes how the design of River Otter Falls also improves the guest experience. "Guests have more underwater views that allow them to see the otters diving into the water. In fact, we've seen the otters exhibiting some pretty spectacular diving displays that will really "Wow" everyone."