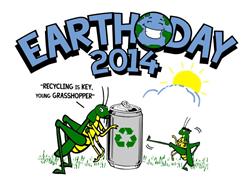 Kewaskum, WI (PRWEB) April 18, 2014
Since its inception, "Earth Day" has placed a strong emphasis on ambitious activism. This conscientious tradition has thrived for decades, and celebrated on April 22nd. On this date, each of us is encouraged to give back to our planet through positive environmental actions. Planetary proactiveness is abundant at A&W Iron & Metal, Inc., as this Wisconsin recycling facility is proud to do its part to make everyday an "Earth Day."
To raise recycling awareness and celebrate our earth, A&W will host its annual Earth Week event at the facility, located at 7588 Otten Drive in Kewaskum, WI. From April 21st through the 26th, customers will receive a myriad of free give-a-ways when recycling at A&W Iron & Metal, Inc. Items include free t-shirts, soda can lids, recycling activity books, and removable tattoos. A common "Earth Day" act is the planting of a tree, and A&W Iron & Metal will see to it that 500 trees are provided to customers throughout the Earth Week celebration. On Tuesday, April 22nd, the first 300 customers will receive a free small potted, Black Hills Spruce Sapling. 200 additional trees will be given away on Saturday, April 26th.
In reality, this week is about so much more than just great prizes, as prominence remains placed upon A&W Iron & Metal's goal of slowing down the rate of landfill volume. All are encouraged to bring recyclables to the Earth Week Celebration, and patrons are guaranteed to receive the best payouts for recyclable metals all year.
Not all commonly known as recyclable items, the following are happily accepted at A&W Iron & Metal: aluminum cans, scrap aluminum, batteries (vehicle), brass, bronze, cast iron, carbide, copper, EDM wire, insulated wire, lead, nickel, radiators, silver, appliances - no freon (stoves, washers, dryers, dishwashers, metal water heaters & softeners, humidifiers, etc.), farm machinery metal, vehicles (cars, trucks, buses, lawn mowers, tillers, cycles, snowmobiles, etc.), sheet iron, steel, tanks (open & dry), tin & tin cans, stainless steel, zinc.
With generous payouts always available, it definitely pays to "go green" at A&W Iron & Metal, Inc. All are encouraged to give back this "Earth Day" by participating in some spring cleaning, and taking recyclables to A&W Iron & Metal, Inc. during the special Earth Week Celebration. For more information about this event, call 262-338-8487 or visit A&W online at awironmetal.com.