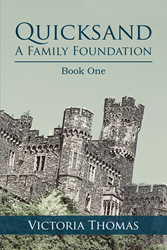 I wrote this book to explore my ancestry and understand character flaws in my grandparents, parents and myself
SPRINGFIELD, Mo. (PRWEB) April 22, 2014
Generation to generation, do we change or stay the same, following suit of what our elders taught us? This question is the inspiration for author Victoria Thomas as she wrote her new book, "Quicksand; A Family Foundation."
"Quicksand; A Family Foundation" is a tragic love story between Emma Bouron and Joseph Head, in the early 1800s, following their family's quest for a solid foundation. This novel follows the ecstasy of their first meeting to the interference of fate's cruel hand, finally casting all the characters asunder.
"There is nothing normal or conventional about their courtship, marriage and inevitable demise," Thomas said. "All the members of their families are affected by the course of their convoluted relationship."
This novel's irony creates paradoxical situations throughout and it's as much an oxymoron for Thomas's family's real life situations, as the title indicates.
"I wrote this book to explore my ancestry and understand character flaws in my grandparents, parents and myself," Thomas said. "Character flaws can be passed down from generation to generation like mirror images."
"Quicksand; A Family Foundation
By: Victoria Thomas
ISBN: 978-1-4918-3416-9
Retail price: $36.00
Available in paperback, hardcopy and e-book
About the author:
Victoria Thomas originated from Wales and became an American citizen in 1977, now residing at Lake of the Ozarks, Missouri. Her career was in education for more than 25 years, as a teacher for 14 years and administrator for 15 years. She received her bachelor's degree from Northeast Missouri State University and her master's degree in educational leadership from Texas A&M University, Corpus Christi, Texas. "Quicksand; A Family Foundation" is the first book of Thomas's trilogy.
###