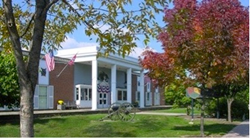 Gettysburg, PA (PRWEB) April 29, 2014
The Adams County Farmers' Market Association, ACFMA, recently announced the relocation of the Wednesday market to a more convenient location at the Gettysburg Heritage Center at 297 Steinwehr Ave. This new downtown location positions the farmers market in the business district of Gettysburg for increased vendor exposure and the convenience of market consumers. The ACFMA also changed the market hours to 2-6 p.m. to better accommodate working patrons of the market. The Wednesday farmers market will open on May 7. To ensure the optimal experience, there is sufficient parking available at the Heritage Center.
A working partnership between the Adams County Farmers Market Association and the Gettysburg Heritage Center made this new location possible. These changes allow working patrons to frequent the market and provide their families with fresh, healthy food amid their busy lives.
In the past, the Wednesday farmers market was at the Gettysburg Rec Park and was open during the morning and the early afternoon. The Adams County Farmers Market Association changed the location in response to consumer and vendor feedback.
One of ACFMA's main priorities is supporting a healthy community. The Farm Fresh Markets offer a Healthy Option program in connection with The Adams County Food Policy Council. Qualifying families can purchase produce and other goods from the market with food vouchers.
The ACFMA is also pleased to continue offering SNAP/EBT and debit services at the market along with the Double Your SNAP Dollars program. Since 2010, ACFMA has successfully integrated wireless services into the local markets, increasing access to fresh food while generating an additional revenue stream for market growers.
Kathleen Glahn, the president of ACFMA, was instrumental in implementing the SNAP program into the markets. She shared her thoughts on the program's success over the past three market seasons, stating, "market growers and producers increasingly see the value in the Association's community outreach programs. Overwhelmingly, vendors support how these programs are managed and are pleased with the increase in market sales."
The Farmers' Market Association places a strong emphasis on building a stronger, healthier community. The new location on Wednesday is a counterpart to the established Friday and Saturday Farm Fresh Markets at The Outlet Shoppes at Gettysburg. The Friday and Saturday markets will be open from 9:30 a.m.-2 p.m. beginning Friday, May 9 and Saturday, May 10.
The Adams County Farmers' Market Association is committed to building vibrant farmers markets which support small-scale producers, enhance the communities we serve, assist families with access to fresh, nutritious food, and educate the public about the benefits of eating locally grown products from economically sustainable farms. The Association is a nonprofit 501(c)6 organization. Learn more by visiting http://www.acfarmersmarkets.org.