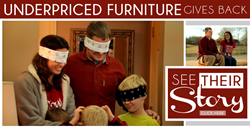 We feel blessed to be able to do something like this... If you have possessions, hold them with your hands open, because if you don't, you can't receive, either.
Atlanta, GA (PRWEB) April 22, 2014
In an effort to show their gratitude, and to give thanks to their customers for 28 years of loyal support, locally-owned furniture retailer, Underpriced Furniture, decided to surprise a deserving family from the greater Metro Atlanta area with a 48-hour total home makeover.
After soliciting the public for worthy home makeover candidates, hundreds of nominations began pouring in via Facebook and various forms of social media. Co-owners Mike Hall and Tim Padden assembled a committee of fellow employees to review the submissions and cast their votes for the most deserving recipient. Once all the votes were tallied, the Scoggins family of Bethlehem, Georgia was the only unanimous vote among all the judges.
Married for 7 years, volunteer firefighter, Dustin Scoggins and his wife, Candice, a teacher, have always dedicated their lives to serving others in need. This became even more apparent recently when they, along with their 6-year-old son, Tucker, took in Dustin's nephews, 10-year-old Jacob and 8-year-old Evan to avoid having them sent to foster care. In addition to his job as a firefighter, Dustin holds down two additional jobs, sometimes working 100-hour work weeks to provide the comfortable home environment his young, growing family deserves.
So with just two days to work with, Dustin, Candice, and the boys were whisked away just before a team of employees from the furniture store descended on their home with approximately $50,000 in brand new furniture, home decor, accessories, fixtures, and electronics to begin the transformation. Above and beyond all the interior decorating, Underpriced Furniture not only brought in contractors to address various existing electrical and plumbing issues within the home, but provided exterior upgrades such as landscaping and outdoor furniture, complete with fire pit.
Forty-eight hours later, before the dust even had a chance to settle, or the paint on the walls had a chance to dry, employees and volunteers alike lined up on the front lawn to officially welcome the Scoggins family home. Hall and Padden blindfolded Dustin, Candice, and the three boys and welcomed them into their comfortable, new surroundings while a video crew captured it all. The video can be seen here.
Amid tears of joy and shrieks of excitement (the boys received a new XBOX 360), Dustin expressed his appreciation to Hall and Padden, saying, "This has made it to where I can actually rest a little bit and be the dad I want to be. I appreciate all of the work and everything you all have done." However, it's Hall, Padden, and their team of employees that felt as if they were the ones receiving the blessing. "We feel blessed to be able to do something like this... If you have possessions, hold them with your hands open, because if you don't, you can't receive, either," said Padden. While vowing to do it all over again for another deserving family soon, Hall added, "At Underpriced Furniture, it's not so much about the furniture anymore, it's about improving lives…"
I'm sure the Scoggins' family would agree.
About Underpriced Furniture
Founded in 1987, Norcross, Georgia-based Underpriced Furniture has built a reputation on providing greater Metro Atlanta residents with quality home furnishings, bedding, and accessories at guaranteed lowest prices. Add to that their non-commission sales staff and same-day delivery, and it's no wonder that Underpriced Furniture was recently named Best Furniture Store by Gwinnett Magazine in their Best of Gwinnett 2013 issue. For more information on Underpriced Furniture, please call (404) 418-8544 or visit http://www.underpricedfurniture.com.