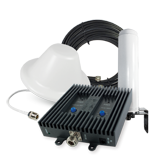 (PRWEB) April 19, 2014
Recently, Excel Wireless, a long-time wireless communication equipment manufacturer and provider, has proudly launched a special offer on its cell phone boosters. The special offer is valid until May 30, 2014.
With the development of wireless communication technology, mobile phone usage has increased to a great level. Almost everyone has a cell phone now. The signals, however, vary from one mobile phone operator to another. Excel Wireless has various mobile phone signal boosters in stock, and these products cover a wide range of choices. They are used to help in improving the voice feect.
The distance from the signal booster can affect the cell phone signal strength. A long distance can cause the waves to get very weak before reaching a phone. Actually, The cell phone boosters from Excel Wireless have a good market performance, which has greatly stimulated the business' growth in the past few years.
The vice president of Excel Wireless, said, "We are excited to launch the promotion. I think this special offer is going to make a lot of our customers very happy. The promotion is launched to show our appreciation to all our customers. The rates we are offering will give our customers the best value for their dollars."
The engineers of Excel Wireless will help customers improve cell phone performance in a variety of circumstances with their products, which are especially useful in the neighborhood, a valley or a mountain that can cause the signals to drop down to zero.
About Excel Wireless
Excel Wireless (Excel-Wireless.com) is a well-known supplier of cellular amplification and wireless communication systems with a focus on cell phone boosters. The business has many years of experience in the industry with a trackable record that it has cooperated with many companies, universities, military and government agencies and communities in all sizes around the world. For more details of the company and its products, please visit: http://www.excel-wireless.com/