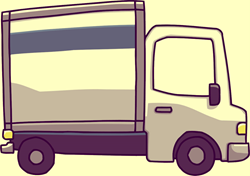 Los Angeles, CA (PRWEB) April 18, 2014
Commercial Movers have previously released specifications for new augmented reality dashboard displays which will likely shape the future of accident prevention technologies. These new displays have multiple functions and allow themselves to be remotely updated and advanced. The makers of this technology have suggested that it's like having a smart phone inside of the vehicle.
Commercial Movers intend to use this technology in several ways. First and foremost, high definition cameras on the front and back exteriors of all moving trucks will have been mounted. These cameras will capture information without the need for rear view mirrors, allowing the driver to keep his eyes firmly affixed to the road. In addition, the cameras will gather data about surrounding conditions, constantly updating the driver and suggesting potential changes.
Company spokesperson Tom Pinkus gave a detailed explanation. "Commercial moving companies have always competed to have access to the best technology, and this is the pinnacle of that competition. Imagine the truck is going sixty miles per hour and is rapidly approaching another vehicle going only fifty miles per hour. The augmented reality dashboard would then update the driver in order to suggest a course correction."
Additionally, details on exactly how far ahead another driver is would be immediately provided and updated with each passing second. A buzzer might sound if tailgating occurs. This provides increased safety and security for all drivers on the road, not just company employees. Even more fascinating is the idea that the truck has cameras all around the vehicle that would suggest exactly how to avoid collision. If slowing down would be easiest, the driver would be prompted to reduce speed. If merging to another lane would make the most sense, then the driver would be prompted to merge at a particular speed and at a particular point in time during which is safest. The driver is basically told--by the vehicle itself--when and where to go.
The augmented reality technology is also being used in other parts of the company as well. For example, technicians are able to use augmented reality goggles to view a particular engine. The goggles deduce the type of engine, the parts in view, and in some cases may even discern noticeable problems. The goggles would then provide the technician with step by step instructions for how to fix the issue. It is assumed this technology will save both time and money for commercial moving companies by eliminating the need for in-depth training.
More information is available at Commercial Movers website.