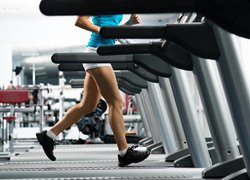 Narconon Arrowhead values the importance of physical fitness, and it integrates exercise into every part of its world-renowned program of drug and alcohol rehabilitation.
Canadian, OK (PRWEB) April 21, 2014
In the United States, every May is National Fitness and Sports Month. This is a nation-wide observance of the importance of physical fitness and a reminder of the ways that physical fitness can be accomplished. In our busy lives, we often don't give exercise the importance that it deserves. Exercise, however, keeps our bodies fit and can even prevent and treat drug addiction.
Narconon Arrowhead values the importance of physical fitness, and it integrates exercise into every part of its world-renowned program of drug and alcohol rehabilitation. In honor of National Fitness and Sports Month, Arrowhead will be working to educate the public on the necessity of physical fitness, even as it continues to use physical fitness to get addicts off of drugs.
Fitness Education
Narconon Arrowhead has the mission of rehabilitating drug users, but its broader mission is simply keeping the community healthy. After all, the entire purpose of getting addicts off of drugs is to return them to a state of optimum health. To this end, Arrowhead promotes physical fitness to everyone.
In May, Arrowhead will be delivering new information on fitness for the community through its website. By educating the public on how to stay physically fit, drug addiction can actually be preventing from occurring in the first place.
Part of the reason for this phenomenon has to do with the reasons that people start using drugs. One main reason is due to poor health. When a person suffers an injury that causes chronic pain, doctors are very likely to prescribe powerful painkillers. These painkillers are extremely addictive, and they are actually the main route for most Americans that later try heroin.
By staying physically fit, you can actually prevent many injuries and illnesses that would cause you to have to be prescribed these powerful painkillers. For example, one main cause of injuries in our country is trying to lift or move objects that are too heavy for the lifter. These leads to pulled or torn muscles and strains that cause a lot of pain. By lifting weights, you can build up your muscles and core strength which will prevent many of these injuries.
Another main cause of first-time drug use is boredom. Many young people are simply bored with their lives after being allowed a steady diet of video games and TV their entire childhoods. Since these pastimes really aren't that fulfilling, it's no wonder they turn to drug use.
By getting young people involved in team sports, parents can give their children something worthwhile and fun to do with their time. These young people are much, much less likely to ever get involved with any form of drugs.
How Physical Fitness Aids in Addiction Recovery
In May, Narconon Arrowhead is also raising awareness of how useful physical fitness is to aiding addiction recovery. Most addicts have weakened, sick bodies due to their drug use. They also usually haven't exercised in a long, long time. By getting addicts to exercise, you can help them start to detoxify their bodies by working out the dangerous poisons that have built up after years of drug use.
Exercise also helps them repair muscle tissue that has grown weak through poor nutrition and the lethargy that comes with all drug use. Narconon Arrowhead leads the way by incorporating exercise into its drug rehabilitation program, and it wants to share the effectiveness of fitness, healthy eating and even what vitamin supplements can do to help someone going through treatment.
For more information on National Fitness and Sports month see the Healthfinder.gov website at http://healthfinder.gov/NHO/MayToolkit.aspx. For more on effective solutions for addiction treatment call Narconon Arrowhead at 800-468-6933 or log onto http://www.narcononarrowhead.org.