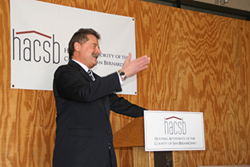 We all came together and created a plan and executed that plan
San Bernardino, CA (PRWEB) April 21, 2014
Public agencies and private organizations are working together to provide job opportunities and the training required for those jobs for unemployed workers in San Bernardino County. In addition, affordable housing may also be available for those workers in the job training program who qualify. The pilot program is a collaboration of National Education, Advocacy and Training, Inc. (NEAT), a non-profit organization,Technical Employment and Training, Inc. (TET), San Bernardino Employment and Training Agency (SBETA) and the Housing Authority of San Bernardino County.
In an interview for "Careers for Life" magazine, Michael Gallo, President and CEO of TET told host Ja Marr Brown that with 49.3 percent of San Bernardino's citizens receiving some type of public assistance, the need exists for a "collective impact strategy" to help people prosper. "It's an economic development imperative that we figure out how to give people the opportunity to move out of that dependency mode to prosperity. The allignment of organizations is really critical. We have the skills and capacities to do this."
Maria Razo-Dale, executive vice president of the Housing Authority of San Bernardino County, says the 6-month pilot program consists of several phases that each of the participants must complete
"The first phase is composed of a (home) construction, deconstruction, remodeling component that is a 4 month process. The training part of the program consists of on-the-job training and an educational component. The second phase is the gardening, hydroponics, farming component. Our goal is that the individuals will be able to provide landscape maintenance and also set up organic gardens as well."
The idea for the program came about as a result of the need to create jobs in a region where unemployment remains high relative to job growth following the recession. Specifically, the housing authority wanted to start a program to train individuals for work in housing construction which is beginning to see a resurgence in the area. Phil Sanchez, Founder and CEO of NEAT says that once the need was identified and TET agreed to provide the training, the educational curriculum was developed. "We got together to create the curriculum, which was passed through the Department of Education, and since I have a construction background, I brought my team in to help out. So we all came together and created a plan and executed that plan." Mr. Sanchez went on to say that workers are trained in all areas of home construction and may receive specialized training in drywall, roofing, and concrete, for example.
The program is intended for those individuals who are serious about regaining their economic independence as Mr. Gallo explained, "The students understand this, and when they commit, they have to be ready, willing and able because these are not easy training programs. This is real on-the-job training coupled with a rigorous curriculum that actually yield the certifications that they can take with them anywhere in the country."
The participating organizations are looking forward to expanding this and other associated programs in order to foster increased economic development while creating more jobs to help those in the City and County of San Bernardino move away from government assistance.
To learn more about this pilot program, you can view the entire video discussion for this story by visiting http://careers4lifemag.com or by calling NEAT at (909)270-2603.
More Information
Contact:
Jeff Allen
info(at)socalceo(dot)com
(951)781-8624 or
(951)454-2396