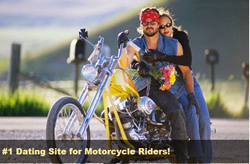 Los Angeles, CA (PRWEB) April 23, 2014
Now that the spring is in the air, a lot of motorcycle enthusiasts are planning to go on a road trip. But as to what kind of roads to choose, different bikers hold different opinions. For new bikers, this is even harder to decide. Recently, an online dating community that's specially designed for bikers, BikerKiss.com, raised such a question on its site forum in order to help bikers gather useful information about the popular roads.
Over 3,000 BikerKiss members got engaged in this. They either shared their stories or pictures of the roads they had already been on, or expressed their yearning for those places they hadn't had the opportunity to travel to. Among all the responses, BikerKiss picked out 10 roads that bikers considered to be best worth travelling on. This could be a most useful reference to bikers who are planning to hit the road soon.
The best 10 roads respectively are:
1. Pacific Coast Highway (Hwy 1): 1700 miles from Astoria, Oregon to San Juan Capistrano, California
2. Appalachian Mountains: 770 miles from Front Royal, Virginia to Deal's Gap, North Carolina
3. River Road, (FM 170): 120 miles from Terlingua to Candelaria, Big Bend, Texas
4. Beartooth Highway, (US 212): 68 Miles in Yellowstone National Park, Wyoming
5. Going to the Sun Road: 50 miles in Glacier National Park, Montana
6. Highway 12: 124 miles between Bryce Canyon National Park and Capitol Reef National Park, Utah
7. Coastal Highway 1: 170 miles from Kittery to Bucksport, Maine
8. Overseas Highway (Hwy 1), Florida, 100 miles from Key Largo to Key West
9. Route 66: 2200 miles from Chicago to Santa Monica
10. The Great River Road (Hwy 61): 2,552 miles from Itasca State Park, Minnesota to Jackson, Louisiana
About BikerKiss:
BikerKiss.com, one of the SuccessfulMatch networks, is world's first, largest and most effective biker dating site for biker singles who are looking to meet other biker friends. It is a best place for bikers and friends to get to know each other, establish relationship and talk about their interests, or to help each other.