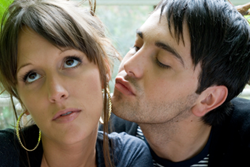 Cross-dependency often results in a very intense relationship where both partners resent each other and yet, are afraid to leave.
Montreal, Canada (PRWEB) April 19, 2014
Whether a couple consists of one dependent partner, or a dependent and co-dependent partner, the result is generally the same: dysfunction. Not the run-of-the-mill minor dysfunction that so many people identify with — we are talking about a destructive, emotionally draining yet addictive relationship where each partner can't function without the other.
These relationships are almost always doomed, due to the extreme neediness of one partner and the extreme self-sacrifice of the other, topped off with major self-esteem issues of both partners. A study conducted by researchers at Queendom.com using their Relationship Attachment Style Test, however, has uncovered a new twist on codependency – an ill-fated combination that creates a pretty explosive relationship dynamic.
The damaging psychological effects of dependency and codependency are well-known, but a study conducted by researchers at Queendom.com reveals a codependency type dubbed "cross-dependency" that takes unhealthy attachment to a whole new level. So what do these types have in common and how do they differ?
THE DEPENDENTS
Identity:
They are also known in the literature as "needy" or "clingy" because they fear abandonment.
Background:
They often suffer from addictions (drugs, alcohol, gambling) and/or mental health issues (depression, anxiety, personality disorders).
Character:
They tend to have underdeveloped emotional and interpersonal skills. Their self-esteem is very low.
Behavior in relationships:
They have an intense need for security in relationships: they need constant reassurance, especially when making decisions, and want to be taken care of. They also feel a strong need to please, and will do anything their partner tells them to, even if it means allowing their partner to take full control of the relationship and their life.
THE CO-DEPENDENTS
Identity:
They are also known in the literature as "helper" or "enabler."
Background:
They are drawn to people who need to be "fixed" or "saved."
Character:
They are extremely self-sacrificing, often to their own detriment. Their self-esteem is slightly higher than the dependent partner's self-esteem, but still very low. They are much more decisive than the dependents (given that that they are the controlling partner) but still experience self-doubt.
Behavior in relationships:
They tend to "parent" their partner, taking care of their every need, and controlling every aspect of their life. This often backfires, and actually enables their partner's dependency. After a while, they start to experience a buildup of resentment because they have to assume responsibility for everything. This leaves the co-dependent person torn between helping their partner and leaving. Part of them wants to keep their partner needy in order to maintain the relationship and the control, as co-dependents also desire security ("I'm tired of being everything to you, but I can't live without you."). So they continue to do whatever the dependent wants them to because they feel they have to help.
THE CROSS-DEPENDENTS
Identity:
They are a combination of the dependents and co-dependents. Essentially, they are needy and clingy (like the dependents), but they also have an acute need to control the relationship and their partner at the same time — even more so than the co-dependents.
Background:
They are likely to have severe emotional problems, sometimes a history of abuse (psychological, sexual or physical) either as a victim or perpetrator.
Character:
Of the three types, the cross-dependent has:

the lowest level of self-esteem (score of 23 vs. 27 for dependents and 34 for co-dependents, on a scale from 0 to 100)
the highest need to please (score of 86 vs. 78 for dependents and 72 for co-dependents)
the highest avoidance of closeness (score of 64 vs. 49 for dependents and 50 for co-dependents)
the most intense need for security (score of 89 vs. 82 for both dependents and co-dependents)
the highest need to control (score of 76 vs. 45 for dependents and 71 for co-dependents)
the highest tendency to comply with their partner's requests (score of 78 vs. 75 for dependents and 64 for co-dependents)
a level of indecisiveness close to dependents (score of 70 vs. 75 for dependents and 54 for co-dependents)
Behavior in relationships:
Cross-dependents have a higher need for security than dependents and co-dependents, but at the same time, are more likely to want to avoid closeness. This "push and pull" pattern results in a love-hate, on-again-off-again relationship ("I love you, I need you, and can't live without you – and I hate it.") with frequent, vicious arguments. In relationships, cross-dependents have both dependency and control issues. Essentially, they don't want to rock the boat too much and risk a breakup, but they also don't want to relinquish the control of the relationship either. Their form of control, however, can be manipulative, in order to keep their partner from leaving.
This is a toxic combination because it results in a vicious cycle: They will do whatever they can to please their partner, and when it's not enough (or doesn't have the effect they want), they get angry and resentment builds up, causing them to withdraw. At this point, their extremely fragile ego kicks in and they start fretting about losing their partner; they start feeling guilty and try to make it up by tending to their partner's every whim with even more diligence.
"When it comes to the cross-dependents, it's more likely that both partners will have this attachment style," explains Dr. Jerabek, president of the company. "They are the intense couples that tend to argue a lot, often 'hitting below the belt,' and may be psychologically if not physically abusive - which exacerbates the low self-esteem issues of their partner. This often results in a very intense relationship where they know they are bad for each other and yet, are afraid to leave. What we have are two equally dysfunctional people who would not be able to have a relationship with anyone else, because as odd as it sounds, no one will understand them better than they understand each other. This combination is often seen in ill-fated Hollywood couples with extremely stormy relationships."
Want to assess your attachment style? Go to http://www.queendom.com/tests/take_test.php?idRegTest=2856 to take the test!
Professional users of this assessment (therapists, life coaches and counselors) can request a free demo of this or any other tests from ARCH Profile's extensive battery: http://hrtests.archprofile.com/testdrive_gen_1
To learn more about psychological testing, download this free eBook: http://hrtests.archprofile.com/personality-tests-in-hr
About Queendom.com
Queendom.com is a subsidiary of PsychTests AIM Inc. Queendom.com is a site that creates an interactive venue for self-exploration with a healthy dose of fun. The site offers a full range of professional-quality, scientifically-validated psychological assessments that empower people to grow and reach their real potential through insightful feedback and detailed, custom-tailored analysis.
About PsychTests AIM Inc.:
PsychTests AIM Inc. originally appeared on the internet scene in 1996. Since its inception, it has become a pre-eminent provider of psychological assessment products and services to human resource personnel, therapists, academics, researchers and a host of other professionals around the world. PsychTests AIM Inc. staff is comprised of a dedicated team of psychologists, test developers, researchers, statisticians, writers, and artificial intelligence experts (see ARCHProfile.com). The company's research division, Plumeus Inc., is supported in part by Research and Development Tax Credit awarded by Industry Canada.