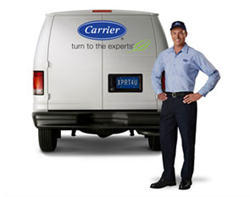 Indianapolis, Indiana (PRWEB) April 18, 2014
For Indiana residents looking to save money on home maintenance services this spring, Carrier Comfort Team offers a discount on all heating and cooling services. Participating dealers, including those that provide air conditioner repair in Jamestown Indiana, encourage homeowners to take advantage of reduced prices now while HVAC companies experience a low volume of calls. HVAC professionals also suggest spring is the best time to service both furnaces and air conditioners, as one piece of equipment has been working hard all winter while the other is getting ready to keep indoor spaces cool for the summer.
From now until April 30, Indiana residents can receive a $25 reduction in cost for furnace or air conditioner repair, service, or replacement. For more details on specials and products, new customers are encouraged to visit
http://carriercomfortteam.com/the-difference/promotions/comfort_cash or visit
http://carriercomfortteam.com to find a local dealer.
About Carrier Comfort Team
Carrier Comfort Team dealers serve the HVAC needs of residents in Illinois, Indiana, Kentucky, and Missouri. Members of the Carrier Comfort Team service all makes and models of heating and cooling equipment. Services include routine cleaning and safety inspections, maintenance, repair, installation, indoor air quality, geothermal, and energy audits.