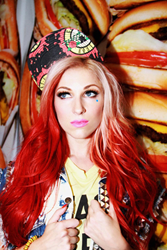 The connection between the audience and the performer is so electric that you can't replicate it anywhere else. It's magical.
Hollywood, CA (PRWEB) April 22, 2014
Singer and Grammy nominated songwriter Bonnie McKee will headline the second annual RaiseAChild.US HONORS gala brunch and award ceremony on May 18 at the W Hollywood Hotel. McKee has co-written hit songs for Katy Perry, Britney Spears, Kesha, Carly Rae Jepsen, Christina Aguilera, Kelly Clarkson, Adam Lambert, and Taio Cruz, raking up eight No. 1 singles, including Perry's "Teenage Dream," "Roar," "Last Friday Night (T.G.I.F.)," "Wide Awake," and "California Gurls," and Cruz's "Dynamite." As an artist signed to Epic Records, Bonnie released the summer anthem "American Girl" last June and has a new single coming soon.
RaiseAChild.US is the only national nonprofit organization that encourages the LGBT community to build families through fostering and adoption to serve the needs of the 400,000 children in the U.S. foster care system. The unique Parent Advocate Program offered by RaiseAChild.US provides information and ongoing support via phone and email to prospective parents as they move through the process from orientation and training to matching and placement. RaiseAChild.US HONORS is the organization's largest annual fundraising effort. This year's HONORS theme is "Sharing Stories of Our Families."
"With our first HONORS event, RaiseAChild.US quickly established a reputation for hosting the most moving and inspiring event of the year," says RaiseAChild.US founder and CEO Rich Valenza. "We all know Bonnie McKee's amazing abilities for writing No. 1 hit songs. On May 18, we plan to surprise and inspire our HONORS guests with Bonnie's incredible vocal talent."
"I'm delighted to perform my own songs for this incredible group of people," says Bonnie McKee. "The connection between the audience and the performer is so electric that you can't replicate it anywhere else. It's magical."
Though she fell in love with pop music from a young age, McKee was also intent on being a trained musician. Born in Vacaville, California, but raised in Seattle, McKee studied classical piano and toured North America and Europe. In 2009, McKee got a major career boost when she was introduced to songwriter-producer Dr. Luke and began writing songs with him and Max Martin. The trio turned out hit after hit, which helped earn McKee consecutive BMI Pop Awards in 2011 and 2012 and a Grammy nomination in 2013.
RaiseAChild.US campaigns welcome and support LGBT prospective parents while putting images of LGBT families into public spaces through PSAs, print media, and outdoor advertising. Since 2011, RaiseAChild.US has engaged more than 2,000 prospective parents nationally and become a leading organization for public education and advocacy on behalf of the 400,000 children awaiting foster and adoptive homes. For more information and to purchase HONORS tickets, visit http://www.RaiseAChild.US.