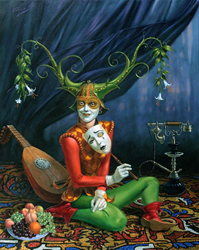 It is a game of imagination, where all ties are carefully chosen to construct a literary plot
N. Bethesda, MD (PRWEB) April 21, 2014
Huckleberry Fine Art, located in the Washington, D.C. metro area, will be hosting one of the world's most talented living surrealists. Michael Cheval will be sharing his newest art April 25 to April 27, 2014. Cheval will be available to talk with gallery goers about his sensational, and curious, paintings.
The collection includes Michael Cheval's Absurdist Art, with no shortage of the strange characters and elements as if straight from Alice in Wonderland. As you take in the subject matter, you notice not everything is as it seems. Cheval defines absurdity as "an inverted side or reality, a reverse side of logic. It does not emerge from the dreams of surrealists, or the work of the subconscious. It is a game of imagination, where all ties are carefully chosen to construct a literary plot."
In the painting "From Sadness to Joy" a court jester with a painted face is sitting on an intricately tiled floor, holding a theatrical mask and surrounded by rich fabrics, a hookah, a lute and fruits. As you look closer you notice the jester's hat is actually a plant growing with vines and flowers, and the hookah actually has an old-fashioned telephone receiver at the top where the mouthpiece should be and the lute has the telephone dial connecting the two.
His work is often metaphorical, and as you investigate each painting, putting together these seemingly disconnected items, they are all working to tell a story. Sometimes the paintings show the artist's propensity towards humor.
Join Huckleberry Fine Art for two evenings of wine, cheese, and the absurd and magical paintings by Michael Cheval, Friday and Saturday, Apr. 25-27, 2014 from 7 p.m. - 11 p.m. The gallery is located at 12051 Nebel Street, Rockville, Md. 20852.
Contact:
Boots Harris
Huckleberry Fine Art
http://www.huckleberryfineart.com
301-881-5977
About Huckleberry Fine Art
As the premier art gallery in the Washington, D.C., metropolitan area, Huckleberry Fine Art specializes in finding emerging artists locally and internationally. Since its existence, the gallery has been exhibiting a vast collection of vibrant oil and acrylic paintings, limited edition signed and numbered prints, sculpture, photography, art books and custom framing. Huckleberry Fine Art has established a successful publishing division with the introduction of artist Rob Gonsalves`s limited edition prints. For more information, visit huckleberryfineart.com.