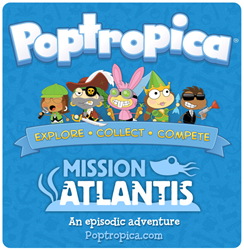 Poptropica players will delve deep into the mysteries of the sea in the first episode of 'Mission Atlantis' online now.
Boston, MA (PRWEB) April 18, 2014
Poptropica players will travel to the bottom of the sea in "Mission Atlantis," an episodic quest available now to Poptropica members with Early Access. The adventure on the popular virtual world for kids will become available to the public on May 15, 2014.
On "Mission Atlantis," players will discover that it's a different world under the sea, and that an ancient secret at the bottom of the ocean is beyond their wildest dreams. In the first episode, their mission starts out simply. Players take a submarine into the deep ocean to photograph rare sea creatures for a nature documentary. They explore mazes and figure out how to get the perfect shot of each fish. Then a stunning discovery leads them to a brand new mission – and from there, the underwater adventures continue.
In addition, the first episode of "Mission Atlantis" will soon be available on the free Poptropica App. Available for download on the App StoreSM, the app brings Poptropica's unparalleled storytelling to iPad®, giving kids another safe place to play and experience the stories brought to life on Poptropica.
"Poptropica players will delve deep into the mysteries of the sea in the first episode of 'Mission Atlantis' online now," said Jess M. Brallier, publisher of Poptropica. "And with our new Poptropica App, they can play anytime, anywhere."
Hundreds of millions of kids have visited Poptropica since its launch six and a half years ago and the number grows every day. Poptropica players come from more than 200 different countries and territories and have their web browsers set to more than 100 different languages. Kids can stay up to date on news about upcoming new Islands and other exciting developments in the world of Poptropica on the official Poptropica blog.
About Poptropica (http://www.poptropica.com)
Poptropica is a virtual world in which kids explore and play in complete safety. Every month, millions of kids from around the world are entertained and informed by Poptropica's engaging quests, stories and games.
Kids create a "Poptropican" character to travel the many Islands of Poptropica and use gaming literacy to enjoy a narrative that is often rooted in factual history. Problem-solving skills are honed as kids discover and solve mysteries unique to each Island.
There are always new areas to explore in this ever-expanding world where kids can collect objects, read digital books and comics, watch movies and compete in head-to-head competition. Parents can always trust that their children are playing – and learning – in a safe online and mobile environment.
Poptropica is published by Pearson, the world's leading learning company.
Apple, the Apple logo, iPad, and iPhone are trademarks of Apple Inc., registered in the U.S. and other countries. App Store is a service mark of Apple Inc.