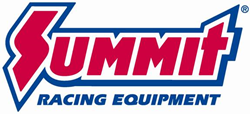 Tallmadge, OH (PRWEB) April 21, 2014
Summit Racing now carries Real Deal Steel 1955-57 Chevy and 1969 Camaro bodies that will give enthusiasts and restorers a better-than-OEM starting point for their build. These are all-new, all-steel bodies—no rust, no dents, no decades of metal fatigue to deal with.
Used to be that finding a solid 1955-57 Chevy or '69 Camaro body was as easy as a trip to the boneyard or a glance through the local car trader rag. Well, those days are long gone, and guys are building cars out of hulks that were considered parts cars a few years ago.
Real Deal Steel assembles these bodies in the USA on its own fixtures. And each body is built with 25% more high-strength spot welds than Chevy used. That means a stronger body that will last longer.
1955-57 CHEVY BODIES
Summit Racing offers Real Deal Steel bodies in two-door sedan, hardtop, and convertible models. The bodies are available in several stages of completeness:

Basic skeleton with roof skin, drip rails, and dash but no exterior panels
Skeleton with quarter panels and tail panel installed
Body with quarter panels, tail panel, doors, and deck lid installed
The convertible bodies are available with or without the top frame. All bodies can be had with Real Deal Steel's mini-tub option. It moves the rear wheel tubs inboard by 2 5/8 inches per side to accommodate wheels up to 11 inches wide and tires up to 13 inches (335mm) wide. That is a must-have option for road race and Pro Touring builds.
1969 CAMARO BODIES
Real Deal Steel Camaro bodies are available in the same configurations as the 1955-57 Chevy bodies. You can choose the type of firewall you want—stock with heater, stock with factory air, or heater delete. The bodies are also available with rear mini-tubs; this option moves the wheel tubs, trunk floor, and rear frame rails inboard but retains the factory spring location. That makes room for wheels up to 11 inches and tires up to 13 inches wide.
Summit Racing has front end sheetmetal to help finish your build, as well as interior upholstery, trim pieces, weatherstripping, mirrors and other components in the Restoration Section at SummitRacing.com.
SEE ALL REAL DEAL STEEL BODIES AT SUMMIT RACING
Summit Racing Equipment
http://www.SummitRacing.com
1-800-230-3030