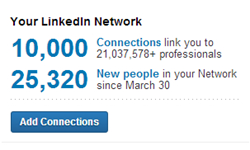 LinkedIn is one of my passions, so I'm always happy to express some tips for others. - Evan Weber, CEO, Experience Advertising, Inc.
Fort Lauderdale, FL (PRWEB) April 18, 2014
Evan Weber, CEO of digital marketing agency Experience Advertising, was recently featured on a Google Hangout interview with Jeff Zelaya about how to use LinkedIn effectively. The two spoke about subjects including: LinkedIn Groups, LinkedIn 10k Connections Milestone, LinkedIn marketing, and LinkedIn Endorsements. The interview is featured on JeffZelaya.com.
Evan Weber is the CEO and founder of Experience Advertising, Inc. which provides online marketing and social media services for companies in several verticals. Weber stated, "I was very pleased to have been selected by my good friend Jeff Zelaya for an online chat about my experiences with LinkedIn. LinkedIn is one of my passions, so I'm always happy to express some tips for others." Weber has more than 10,000 LinkedIn connections, more than 160 LinkedIn recommendations, and several thousand LinkedIn endorsements.
Jeff Zelaya is a marketing, sales and public relations consultant. He's a professional public speaker and founder of South Florida's leading speakers bureau. Jeff works at Vocus and is an award winning Sales Executive for the publicly traded cloud marketing and public relations software company based out of Beltsville, MD. Jeff, his wife Emma and his newborn son Elijah currently reside in the Washington D.C. area.
Experience Advertising, Inc. is a full-service digital agency that coordinates and manages online marketing channels including: SEO, SEM, affiliate marketing, Facebook management, Facebook advertising, retargeting, email marketing, conversion rate optimization, customer referral programs, customer loyalty and retention, web design, and online marketing consulting. Experience Advertising was founded in 2007. If you are interested in a digital marketing agency, visit Experience Advertising.