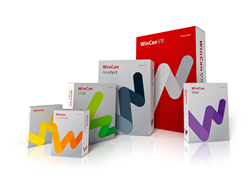 From cloud-based data and work flows to enhanced analytical tools, customers will be astounded by the scope of this upgrade.
(PRWEB) April 18, 2014
New WinCan VX is a revolutionary overhaul of the world's leading pipe inspection and asset management software. The new version emphasizes cloud-based work flows and data access, plus substantially enhanced reporting and analytical capabilities. It also offers new support for value-added processes like pipe cleaning, rehabilitation and leak detection. Beyond that, WinCan VX augments existing functional areas like GIS, laser/sonar scanning, side scanning, image measurement and municipal database integration. And to accommodate even the largest municipalities, WinCan VX has been performance benchmarked on databases exceeding 5 million records.
"Fifteen years ago, WinCan created the pipe inspection software market," said Mike Russin, Business Manager for Pipeline Analytics. "Today, as the worldwide leader in that market, WinCan VX proves its commitment to innovation is stronger than ever. Customers will be astounded by the scope of this upgrade."
WinCan VX gives customers unprecedented latitude as to how their data is stored: on a closed network, hosted on a proprietary cloud server, hosted offsite at WinCan's server cluster, or any redundant combination of these options. "When people talk about the cloud, they're simply talking about a network with no walls," says Martin Hien, General Manager for WinCan. "WinCan VX is the first pipe inspection software to embrace this paradigm, making it far easier to securely store data, share inspection results, and automate work flows. And of course, it also streamlines support and upgrades."
As a companion software to WinCan VX, WinCan Analyst gives managers and engineers sophisticated tools for understanding the maintenance needs of a collection system using WinCan VX data. It generates maps highlighting pipe material, size, rating, maintenance status and damage classification, and it produces statistical reports listing assets by similar criteria. WinCan Analyst also contains tools for rehabilitation planning, inspection data validation and extended condition rating.
Both WinCan VX and WinCan Analyst are available for immediate demonstration and licensing.
About WinCan.
WinCan™ was the original pipe inspection and asset management software when it entered the market 15 years ago. Today, it's the most trusted pipeline software brand worldwide, thanks to continuous innovation and exceptional support. WinCan™ transforms raw inspection data into the intelligence municipalities and contractors need to make critical maintenance decisions. The software's measurement tools help quantify defects, and sophisticated search capabilities filter observations by any combination of criteria. Its report generator automatically summarizes inspection findings using a standard or user-defined template. Native support for GIS mapping, side-scanning and 3D are among WinCan's™ most innovative features.
About Pipeline Analytics.
WinCan™ pipe inspection and asset management software is supported and distributed in the Americas exclusively by Pipeline Analytics. As the only WinCan™-certified software consultancy, Pipeline Analytics™ is uniquely positioned to deliver support, training, customization and integration with all common municipal databases and mapping software programs. Pipeline Analytics™ works directly with end users, and also with inspection equipment manufacturers, helping them deliver integrated hardware/software solutions that allow their customers to document, analyze and report pipeline condition. Visit Pipeline Analytics™ online at http://www.pipelineanalytics.com.