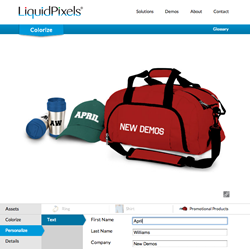 All images that appear on the site are rendered dynamically from a single master image
Rochester, NY (PRWEB) April 22, 2014
Responsive design took the B2C world by storm, but the B2B community has been slower to adopt it. The challenges of addressing mobile users are just as important for this business segment, however, and a recent update to dynamic imaging leader LiquidPixels' software products demonstrates how powerful the transition can be.
Completely rebuilt online demos now showcase applications of LiquidPixels LiquiFire solutions in a responsive design framework. All images that appear on the site are rendered dynamically from a single master image (including the high-density versions which appear to users on HiDPI devices).
LiquiFire dynamic imaging combines a source image, dimensions, and pixel density requirements on the fly in order to produce a custom-tailored image for each user. This unique capability is key to efficient and effective responsive Web design. Plus, by streamlining the number of image assets that must be acquired and maintained, businesses can run faster behind the scenes as well as online.
In addition to providing an enhanced user experience for public visitors to the corporate website, the redesign offers real business value. LiquidPixels' channel partners can now show prospective e-commerce clients dynamic imaging functionality in a setting that reflows to suit any device. This supports the real-world marketing needs of partners and drives home the point that LiquiFire dynamic imaging seamlessly renders online images, as it has done for over a decade, on any platform.
LiquidPixels also transformed its browser-based back-end management tool, LiquiFire Orb, with a refreshed and sleek modern feel. Remote technicians working on their smart phones now have the same management tools as graphic designers sitting in the office. True to the ideals of responsive design, the program presents a view tailored for the screen resolution and width on which it's being viewed.
CTO Marc Spencer was proud to announce these updates, saying that integrating cutting-edge Web methodologies has been critical to LiquidPixels' development roadmap since he helped found the company in 2000. "Responsive design is more than a buzzword: it is a fundamental rethinking of delivering and parsing content on the Web. It resonates with us at LiquidPixels because dynamic imaging challenged the online imaging status quo in a similar, revolutionary way. I know LiquidPixels website visitors will enjoy the new suite of demos, but I'm especially pleased to bring both the new demos and the enhanced LiquiFire Orb to our valued partners and customers."
About Liquidpixels, Inc.
LiquidPixels is leading the imaging revolution. Built on open standards, its LiquiFire dynamic imaging solutions integrate into existing Web and workflow environments, enhancing product creation and visualization while reducing production costs. LiquidPixels makes its patented technology available as a hosted service or via on-site enterprise servers with solutions that may be tailored to each customer's unique needs.
For more information, contact:
David K. Jones, V.P. Sales & Marketing
LiquidPixels, Inc.
866-808-4937 x307
sales(at)liquidpixels(dot)com