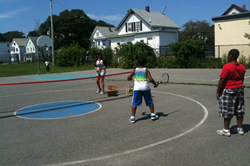 We hope that the new software tool we are helping to fund will enable the Center to help more kids to achieve great success with the important lifestyle changes being taught.
(PRWEB) April 18, 2014
The state of Massachusetts has one of the highest obesity rates in the nation for low-income children according to the Centers for Disease Control and Prevention. Children's Obesity Fund is pleased to support the Obesity Prevention Center for Children and Youth helping to make a difference in the lives of overweight and obese young people in the Brockton area of Massachusetts.
The primary objective of the Obesity Prevention Center is to teach at-risk children the importance of good habits for exercise and healthy eating. By integrating indoor and outdoor physical activities and sports with nutrition education, the Center's programs help children make the lifesaving connection between what they eat and how they look and feel.
"The Obesity Prevention Center is perfectly aligned with the vision of my brother and I when we established our charity several years ago – reversing the growing obesity epidemic for America's children," according to Dr. Michael Omidi, cofounder of Children's Obesity Fund. "The Center is a terrific extension of our work, our boots-on-the-ground so to speak, and we are thrilled to support their efforts to teach young people how to live longer by establishing healthier, active lifestyles. Tracking the progress of participants is a very important element of program success. We hope that the new software tool we are helping to fund will enable the Center to help more kids to achieve great success with the important lifestyle changes being taught."
The cornerstone of Obesity Prevention Center activities is their seven-week Summer Program for at-risk overweight and obese children and youth ages 5-16 years. Program activities are designed to combat the sedentary lifestyles of today and are supervised and taught by Certified Fitness Coaches, a Licensed Dietician, a Licensed Practical Nurse and a Certified Health Coach. The agenda of the summer program includes four essential components:

Sports and exercise – For most of the day, fitness coaches supervise, teach good form, and help children pace themselves as they walk/jog/run; play soccer, basketball and tennis; and participate in weight lifting, dance and yoga classes.
Nutritional education – Kids are served a healthy, organic lunch and attend regular classes to learn how to prepare/cook simple, healthy meals. Weekly nutrition classes with a licensed dietician teach kids how to read food labels, to recognize processed, junk food, and to better understand the relationship between food choices and feeling good.
Parental involvement – During individual meetings with the parent and child, program staff review the Home Food Journal kept by the child. The journal is an important teaching tool that helps involve parents and enables staff to provide specific suggestions of ways to support their children's healthy, new habits at home.
Assessment and monitoring of success – Children are assessed by a nurse who records weight and body mass index, along with heart rate and blood pressure at the start of the program. On a weekly basis, program staff evaluates the child's progress with decreased body fat percentages (BMI), improved fitness levels and endurance (heart rate & blood pressure), and nutritional knowledge and food choices.
On average, children lose ten pounds through program participation. Their BMI is reduced, they begin to enjoy exercise and activity, and feel stronger and more confident … in short they experience success.
The Obesity Prevention Center for Children & Youth (http://www.obesitypreventioncenter.org) instills a solid foundation of new exercise and eating habits with at-risk overweight and obese children ages 5-16 years old, teaching them how to live a healthy, balanced lifestyle. Young people with a higher Body Mass Index (BMI), a medical measurement of body fat, are a greater risk for developing type 2 diabetes, high cholesterol and elevated blood pressure which are all risk factors for cardiovascular disease. Children with weight problems often become adults with weight problems and experience a lower quality of life and a shorter lifespan.
Cofounded by Julian Omidi and Dr. Michael Omidi, the Children's Obesity Fund (http://www.childrensobesityfund.org) hopes to help reverse the trend of rising obesity rates in America. The goal of the non-profit charity is to help people fully understand the obesity issue and its dire impacts
on individuals and society as a whole -- and to use that knowledge to encourage children to grow up strong and healthy. Children's Obesity Fund partners with other organizations to educate and support parents, educators and others so that we can all work together to raise healthy, active, social, and happy children. While the organization does not accept donations, it does encourage direct contributions of money and talents to the associations featured on our website. Children's Obesity Fund is on Facebook as well as Google+, Twitter, and Pinterest.