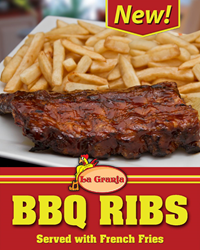 Oakland Park, FL (PRWEB) April 22, 2014
La Granja East Oakland offers a wide variety of Peruvian dishes to satisfy the diverse community of Oakland Park. Located conveniently on 455 E. Oakland Park Blvd, La Granja invites families to come and enjoy the slow cooked, savory specialties that are affordable and nutritious any day of the week. La Granja's menu offers quite a large selection of dishes due to the many worldwide influences that have helped shape Peruvian cuisine.
Peruvian cuisine has evolved from local and immigrant practices and traditions. Once prepared by ancient civilizations, the incredible blend of flavors in each dish originates from European, African, and Asian influences. Peruvian cuisine has been recognized as one of the best in the world, having notably drawn inspiration from several cultures. These many sources of inspiration allow for a diverse selection of dishes that present a true fusion of flavors from around the world. It has been described as perfect for families with selective eaters.
A few favorites from the La Granja East Oakland menu people can enjoy:

Chupe de Mariscos – La Granja's hearty and flavorful seafood gumbo.
Chicharron de Calamar - La Granja's crispy fried calamari – a family favorite.
A lighter, succulent seafood fare – La Granja's delicious Ceviche – seafood marinated and cooked in citrus juices. It's very tender, and the flavor activates the taste buds.
Pollo A la Brasa - It made La Granja famous. The most delectable, perfectly seasoned rotisserie style chicken that is falling off the bone with flavor, held together by a crispy outside, overflowing with tender juiciness on the inside.
Chaufa de Pollo - La Granja's tasty chicken fried rice is a crave-worthy Asian inspired specialty.
Fajitas. Beef and vegetables sautéed with special Peruvian spices served with all the accompaniments as well as a mouthwatering aroma.
Sautéed Beef with Noodles – For beef lovers, this is another delightful customer favorite.
Grilled Beef with Shrimp and Scallops – La Granja serves up some delicious Peruvian Surf and Turf for those with a desire for both meat and seafood.
Oakland Park and Fort Lauderdale residents can come in and taste mouthwatering BBQ ribs with fries at the La Granja East Oakland Restaurant.
One of the best parts about dining at La Granja East Oakland is the reasonably priced menu. La Granja Restaurants believes that families should share meals together, just as they do in traditional Peruvian culture. In today's busy world, there are days where the only time one can find to share with family members is during a mealtime. La Granja believes that mealtimes should be memorable, nutritious, and enjoyed by all. La Granja also understands that in order for families to enjoy meals together at a La Granja restaurant, it also needs to be affordable. Delicious, whole food nutrition at affordable prices - that is the experience La Granja strives to give its patrons at La Granja East Oakland every time they dine with us.
Visit La Granja Restaurants online at http://www.lagranjarestaurants.com and catch the latest meal specials that begin at under $5.00. La Granja's quality ingredients, generous portions, and prices cannot be beat. La Granja also has special offers for family style take out dinners that one can conveniently pick up and enjoy at home.
La Granja East Oakland's friendly staff is waiting to welcome families and serve the best Peruvian food South Florida has to offer. Come enjoy a healthy meal with the family at La Granja East Oakland tonight.