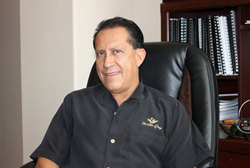 Paul is a proven performer with extensive executive experience in a highly competitive industry. -- Owen Perry, owner and president of Villa Group
Islands of Loreto, Baja, Mexico (PRWEB) April 21, 2014
Altamar Investments, parent company of the Villa Group, operator of a unique collection of all-inclusive hotels and luxury resorts in Mexico, today announced the appointment of hospitality veteran Paul E. Moreno as corporate Chief Operating Officer, overseeing properties in Cabo San Lucas, Puerto Vallarta, Riviera Nayarit and the Islands of Loreto, home to Villa del Palmar at the Islands of Loreto, the newest member of Villa Group Resorts.
Moreno, who has 26 years of experience in the travel and hospitality industry, officially began his new role on January 1, 2014. In his position, Moreno will focus on high-level leadership and operations of the Villa Group's portfolio of resorts, including openings, renovations, market positioning, employee development, sales and marketing, acquisitions, master planning, budgeting and tourism.
"Paul is a proven performer with extensive executive experience in a highly competitive industry," said Owen Perry, owner and president of Villa Group. "His vast experience in the industry makes him a great fit in this role and a continued asset to the Villa Group team."
Throughout his 13-year career with the Villa Group, Moreno served in various roles, most recently as Vice President of hotel operations for the portfolio, as well as director of operations and general manager of Villa del Palmar at the Islands of Loreto, which officially opened its doors three years ago on March 19, 2011. Moreno was instrumental in the opening of the luxury beachfront property, which touts spectacular ocean-view rooms, a 39,000-square foot Sabila Spa, five swimming pools and three restaurants offering gourmet dining.
Nestled in the majestic Sierra de la Giganta mountain range and situated on one of the most pristine coastlines in the world along the Sea of Cortez, Villa del Palmar at the Islands of Loreto allows guests to enjoy the unspoiled beauty and charm of the Islands of Loreto. Over the course of three short years, Villa del Palmar at the Islands of Loreto has been rapidly growing in popularity with adventure-seekers and connoisseurs of pure relaxation alike.
"The continued improvement of the Villa Group's quality of service, the maintenance of the properties as havens for relaxation and the innovation of the travel experience are high priorities in my book," he said. "High morale and and workforce satisfaction are important as well, and I look forward to continuing to help the Villa Group excel in these areas."
Moreno, whose father was a diplomat, said he has always been intrigued by the world of travel.
"I traveled all of my kid life and I wanted to find a way to continue to travel," said Moreno, describing why he got into the hospitality industry.
In addition to the Villa Group, Moreno has vast hospitality experience at properties in the United States, Asia, Central America, the Caribbean and Mexico.
Moreno studied Hotel and Restaurant Management at the Hotel School of Nice and speaks seven languages, including Spanish, French and English fluently.
To learn more about the Villa Group, visit http://www.villagroupresorts.com, contact your preferred travel professional or call 888-844-8169.
About the Villa Group
The Villa Group is one of Mexico's leading privately owned hotel, resort and real estate development companies. Their portfolio includes beachfront destination resorts, exclusive fractional and full ownership luxury real estate developments, and a secluded mountaintop boutique spa retreat. The collection includes: Cabo San Lucas - Villa La Estancia, Villa del Arco, Islands of Loreto - Villa del Palmar at the Islands of Loreto and Hotel Santa Fe; Puerto Vallarta - Villa del Palmar and Nuevo Vallarta / Riviera Nayarit - Villa del Palmar Flamingos and Villa La Estancia; Sierra Madre Mountain Range - Sierra Lago Resort & Spa. Additionally, Villa del Palmar and Villa La Estancia multi-property developments are scheduled to open in Cancun and Loreto. For more information or reservations, call toll-free from the U.S. and Canada (877) 845-5247 or visit villagroupresorts.com.