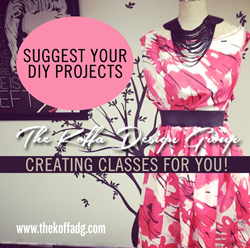 Toeque-Slyusar believes that 'creativity creates happiness.'
Pasadena,CA (PRWEB) April 20, 2014
The owner of The Koffa Design Group, Koffajuah Toeque-Slyusar is looking to the public for suggestions on classes they would like to take. Toeque-Slyusar stated, "Many people look to sites such as Pinterest and YouTube to learn new things such as learning 'how to sew a pillow' or learning 'how to create a handbag,' but that missing link is having someone help you along the way."
Toeque-Slyusar believes that creating classes based on what people are searching for will be more helpful than only offering what her organization thinks people would like to learn. Everything from Do it yourself Fashion Ideas, Home Improvement Projects, Craft Ideas, Kids Crafts, to Holiday Crafts and Favors, The Koffa Design group is looking for suggestions so that students get help on their DIY and Craft projects.
Many people have been approaching and asking Toeque-Slyusar about classes on how to create things around the house such as pillows all the way to adding embellishments to a simple cardigan. So she thinks that creating a public forum that allows for suggestions from the public gives the organization first knowledge of what she can do to help others accomplish their creative goals.
DIY projects if done right can be a very fun experience, so The Koffa Design Group is looking to the public to create classes that can help individual finish that projects that they have been working on or have been thinking about working on.
Suggestions for DIY and Craft classes can be done at http://www.thekoffadg.com using the Contact Us button on the site. The philosophy behind is this is get more people being creative as Toeque-Slyusar believes that " creativity creates happiness" and it bring her joy to help people bring out their creative side.
About The Koffa Design Group
The Koffa Design Group is a creative services company with focus in the areas of Fashion Design, Product Development, Creative Services, and Education ofefering classes to kids and adults in area of fashion and creative development.
Contact:
PR at The Koffa Design Group
408-475-6332
info(at)thekoffadg(dot)cm