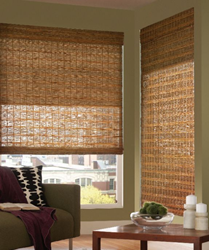 Orange, CA (PRWEB) April 21, 2014
Gone are the days of eco-friendly homes being just for environmentalists. With Earth Day upon us, Budget Blinds is informing consumers about how style and sustainability can work in harmony. Budget Blinds is encouraging environmental responsibility among homeowners by offering innovative, affordable, and aesthetically pleasing window coverings to those looking to inject sustainable design solutions into their daily lives.
Consumers are seeking out environmentally friendly products for their homes. A recent study revealed that 1 in 5 U.S. consumers are sustainability-driven in brand and store selection. To cater to this growing clientele, Budget Blinds offers a variety of renewable products. For example, its line of woven wood shades is made from 100% recyclable organic materials such as bamboo, grasses, reeds and jute. In addition, Budget Blinds sources its hardwood for its line of wood blinds and wood shutters using sustainable yield forest management.
Many of the manufacturers in Budget Blinds' vendor alliance program also practice sustainability. For example, products from the company's private label brand, Signature Series®, come from facilities that use sawdust to fire kilns in order to heat the factory, recirculate water in cooling systems to save over 90 million gallons a year, and that recycle up to 75% of total waste. Packaging and shipping components used are also 100% recyclable.
If you are looking to increase the air quality within your home, Budget Blinds offers window coverings that have been certified by the GREENGUARD Institute. Products that are GREENGUARD Certified must meet stringent chemical emissions standards. Doing so ensures that volatile organic compounds (VOC) are kept to an absolute minimum thus increasing the air quality inside your home.
"While the very heart of what we do involves helping you create a beautiful and inviting home, we also share our customers' commitment to the environment," said Tracy Christman, Vice President of Vendor Alliance at Budget Blinds. "Our products offer refined craftsmanship and are also eco-friendly so that your windows not only look great, but make you feel great as well."
This Earth Day, Budget Blinds is spreading the word about ways to reduce your carbon footprint. To promote its eco-friendly window coverings, Budget Blinds has launched its Anniversary Sale where the more you buy, the more you save.
For more information on the sustainable design solutions offered by Budget Blinds, or to schedule a free in-home consultation, click here.