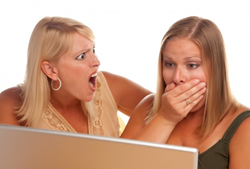 Reputations can be damaged easily in today's online world, and that is why Reputation Redo was created - to make sure that YOUR reputation doesn't become one of those victims!
Los Angeles, CA (PRWEB) April 18, 2014
It's said that, "You don't get a second chance at a first impression," however in the online world, "You don't get a first chance to make a first impression!" and in this day and age, public perception is everything. A simple Google search on the internet these days could be the deciding point of a crucial business deal or even just plain business at all.
Unlike other so-called reputation repair outfits, ReputationRedo.Com was created by an international PR firm that has in essence been aiding the tarnished reputations of celebrities and businesses for over forty years.
When somebody's reputation is smeared on the internet, it can ruin their life and livelihood overnight. ReputationRedo.Com is staffed by a seasoned team of professional journalists, former search engine employees and attorneys who work in unison to restore their clients' good names.
Unscrupulous business competitors have been known to post false negative reviews about their competition on sites such the Ripoff Report and Yelp. These unsubstantiated postings can create a nightmare for a person or business' reputation. Damaging content can stay on the internet for years and take on a life of its own. The cost of a bad online reputation cost them the loss of a business, reputation, or worse.
Where as it was once believed that a reputation was like virginity, "Once it's gone you can't get it back", ReutationRedo.Com has become a game changer. ReputationRedo.Com specializes in cleaning up their clients' online identities through a pattented proccess that they have dubbed "The Complete RepRedo." The RepRedo online image makeover is designed to restore a person's tarnished online identity.
A person's online presence has replaced the business card. Searches are being done about people all of the time, and people don't have to give permission for these searches - unlike the old days, when background checks were requested, and only, issued after permission was granted. These days it's said, "You and your reputation are only as good as what's on Google!"
Let's not forget the fact that old files and documents are being scanned and placed online everyday without anyone's control or knowledge and, as one could imagine, it's hurting people and their reputations and, more importantly, preventing them from getting a job, promotion, etc.
To find out more about ReputationRedo.com call (310) 498-9303 or visit http://www.reputationredo.com/.