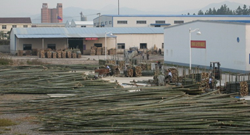 (PRWEB) April 19, 2014
Recently, BambooIndustry.com, a leader in bamboo flooring products, has announced its site-wide bamboo product promotion with great discounts, up to 30%. The promotion is valid until May 12, 2014.
BambooIndustry.com specializes in high-quality bamboo products, including bamboo flooring, bamboo paneling, bamboo plywoods and more. Besides high quality bamboo flooring, the company has become one of the leading brands in the global bamboo industry through flexible marketing strategies. They always launch specific promotions to expand its overseas markets.
Now, all their bamboo products are available at discounted prices. Actually, the products from BambooIndustry.com have been approved and used in many countries. Many consumers are greatly satisfied with the company's product quality and after-sale service.
The CEO of the company says, "We have large quantities of bamboo products in stock now, and we welcome OEM orders from customers worldwide. Being confident of our engineers and their rich experience in the industry, we highly recommend our bamboo products to consumers around the world."
BambooIndustry.com is serving more than 200 happy customers worldwide. It has a great reputation in the industry in the USA and Europe (Germany, France, Italy, UK, etc.). Excellent customer support, high-quality, speedy delivery, and competitive prices, are the reasons to choose BambooIndustry.com.
About BambooIndustry.com
BambooIndustry.com is a website that belongs to BothBest Bamboo Flooring Co. Ltd., a professional supplier and exporter of bamboo products. Certified by both ISO9001:2008 and ISO14001:2004, the company has 8 years of experience in the manufacturing and wholesale of bamboo flooring products. It strives to bring its customers the latest styles and innovations of bamboo flooring, bamboo paneling, bamboo plywoods, bamboo furniture, and other bamboo products.
More information about the business and its bamboo flooring products can be found at http://www.bambooindustry.com/bamboo-flooring.