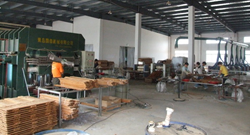 (PRWEB) April 20, 2014
BambooIndustry.com is a leading bamboo product manufacturer, and it has been pushing for a greener future for more than 10 years. Today, it unveils its new bamboo plywood and bamboo panels, and announces that all these new items are offered at discounted rates now.
The bamboo plywood and bamboo panels from this company are always ranked at high positions at many review sites for their quality and competitive prices. As an innovative leader in the industry, BambooIndustry.com always at the front lines in terms of bamboo products. It has adapted the most advanced technologies of bamboo flooring and panel manufacturing for better quality.
The spokesman for the company says, "We have a bio-based adhesive solution in our bamboo products, because adhesives are a very important element in both the integrity and durability of any bamboo product. We have much experience in the industry. At BambooIndustry.com, we provide a great selection of bamboo flooring and bamboo panels to suit any style you prefer."
The engineers and designer of BambooIndustry.com have incorporated the latest trends in their products, which have exhibited excellent mechanical properties that can always exceed all current standards in the bamboo industry. In addition, the bamboo flooring of BambooIndustry.com has a great workability and a bio-based nature which make it safe and easy to use.
About BambooIndustry.com
BambooIndustry.com is a website that belongs to BothBest Bamboo Flooring Co. Ltd., which is a professional supplier and exporter of bamboo products, and certified by both ISO9001:2008 and ISO14001:2004. The company has 8 years of experience in the manufacturing and wholesale of bamboo flooring products. It strives to bring its customers the latest styles and innovations of bamboo flooring, bamboo paneling, bamboo plywoods, bamboo furniture, and other bamboo products.
More information about the business and its bamboo flooring products can be found at http://www.bambooindustry.com/bamboo-flooring.